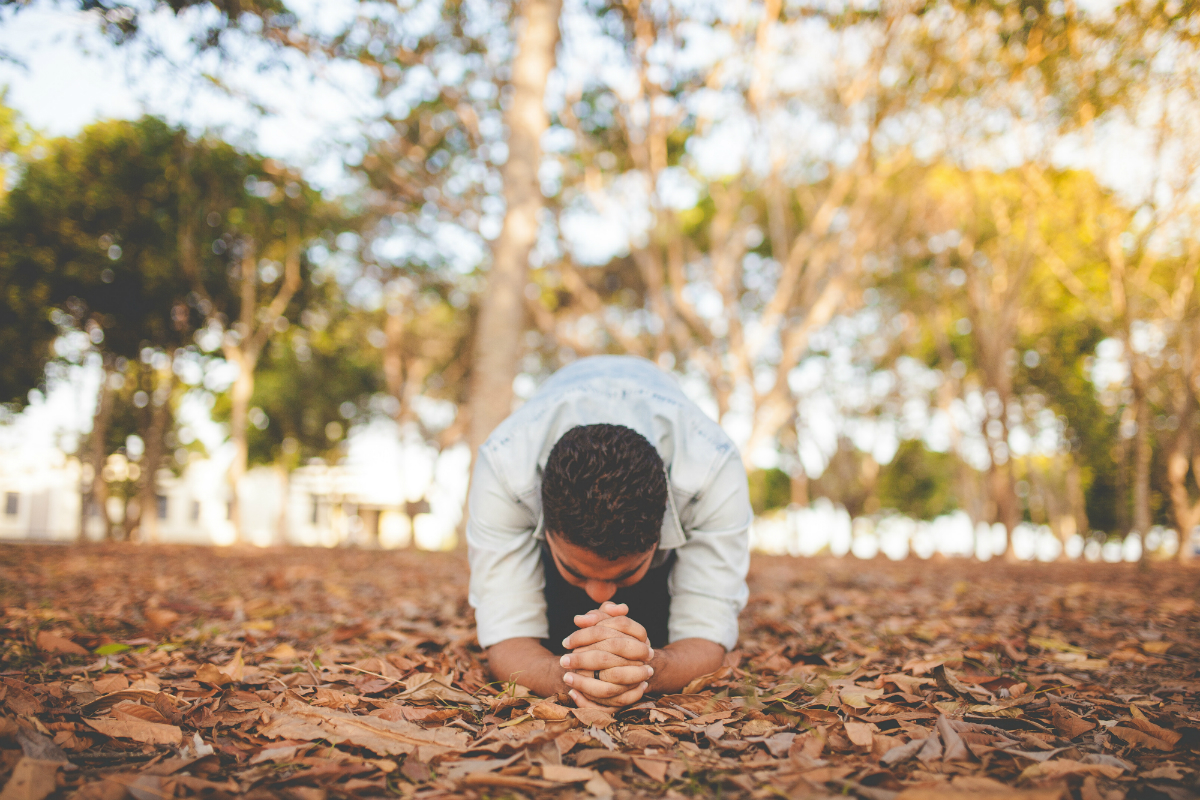 There's a beast within me. It's hungry, demanding, and jealous. The beast desires applause. It seeks glory, acclaim.
The beast is me.
THE BEAST WITHIN
I want everyone to know how hard I work to organize service projects. I want people to look at my children and think about what a great mother I am. I get angry when someone steals the spotlight.
The beast is insatiable.
And this beast is inside all of us. We're all glory seekers.
We were made to chase after God's glory (Isa. 43:7), but sin distorts this God-given desire into a pursuit of our own glory. Our chase changes course. We're like the dog who runs around in circles chasing his own tail. Our eyes are fixed on ourselves and the vanity of our chase eludes us.
THE GLORY OF GOD ECLIPSES THE BEAST
My heavenly Father frees me from the clutches of the beast. He frees me from fixing my eyes on me, and from the desire for everyone else's eyes. More than that, he invites me to lock eyes with him—and when I do, I behold his glory.
Beholding his glory changes me (2 Cor. 3:18). His glory is full of grace (John 1:14), and it transforms what I want and what I value.
His glory is full of truth. And the truth is, his glory makes mine much less appealing.
When I behold the beauty of God's glory, I'm no longer invested in my own greatness; I want the world to see the greatness of my God.
BOASTING IN STRENGTH AND WEAKNESS
In his book Radical, David Platt writes, "God actually delights in exalting our inability. He intentionally puts his people in situations where they come face to face with their need for him." When we exalt our insufficiency, we boast in the sufficiency of Christ.
So I'm free to be bold in my weakness, knowing that when I'm weak, I'm strong (2 Cor. 12:10). I can do nothing apart from Christ (John 15:5). My insufficiency doesn't discourage me, it empowers me because his power is perfected in my weakness (2 Cor. 12:9).
My weakness can be a spotlight for who's extraordinary—almighty God. My shortcomings as a parent showcase God's glorious grace in my children. My openness about gluttony highlights God's power to break every chain of bondage when I'm no longer a slave to my appetite.
Seekers of his glory are not motivated by selfish ambition, but holy ambition. We want to make Christ known. In the book, Alive in Him, Gloria Furman says we are, "dying to ourselves in every way for the sake of making Christ's name famous in all the cosmos." We don't want people to look at our social media posts to notice our greatness. No, we want to use our social networks to, "proclaim the excellencies of him who called us out of darkness into his marvelous light" (1 Pet. 2:9).
Our boast is in the Lord, not in ourselves (1 Cor. 1:31). We want to show the world our neediness for God because our neediness brings him glory. We are, as Martin Luther said on his deathbed, "mere beggars showing other beggars where to find bread."
CELEBRATING OTHERS' SUCCESS
The beast in me doesn't like sharing the spotlight with anyone. It wants me to outshine everyone else. It's threatened by the successes of others. But when I seek God's glory, I celebrate all the ways and means he chooses to reveal it—even if he does it through someone else.
When I'm more concerned with God's glory than my own, I rejoice when others succeed. They're not a threat to me and my glory; they are evidence of God's glory shining through them. We are one body in Christ (Rom. 12:5). We are co-laborers in gospel work. We rejoice with those who rejoice (Rom.12:15). Your successes are my successes, and vice versa.
When I struggle to get a single article published and my Twitter-friend gets a book deal, I thank God. May he bless her with words to encourage his people. When I struggle financially and my friend's husband gets a promotion, I praise God. May they bless others as they have been blessed. I can rejoice in God's grace in other moms whose children act angelic in public while mine are perfecting their defiance.
I can celebrate these evidences of his grace in others' lives because I love God's glory. I desire to see his grace cover the earth, including Twitter and my friends' successes. He uses us in different ways to glorify himself. We should champion—not compete against—one another. God gives us the grace to cheer one another on in the faith: "Oh, magnify the Lord with me, and let us exalt his name together" (Ps. 34:3).
LIVING TRANSFORMED
The world tempts us to build a platform; God invites us to build his kingdom. When we're building his kingdom, ours loses its attractiveness. His glory becomes my pursuit.
When I'm more concerned about God's glory than my own, I live out of the transformational grace given to those who behold his glory (2 Cor. 3:18). His desires become what I want. His thoughts become my thoughts. My words start to sound like his—edifying and life-giving. I don't live for temporal, but eternal, pleasures.
God alone has the power to transform me from a seeker of self-glory to a seeker of his glory. The world tells me to take care of me and mine, but God is glorified when we look to the interests of others (Phil.2:4). The world says we should keep to our own kind, but we bring our Father glory when we embrace people from every tribe, tongue, and nation that will make up our eternal family (Rev. 7:9).
STOP LOOKING AT ME
A.W. Tozer said, "The glory of God always comes at the sacrifice of self." If everyone is looking at me, they're not looking at Christ. When I seek my glory, I'm working in opposition to the gospel. When I care more about God's glory than my own, it's my joy to sacrifice my desires for his greatness.
Father, give me the desire and the means to make your name famous, and not my own. Be big in my smallness; strong in my weakness. Unite your people to display your glory together to the ends of the earth.
Slay the glory-seeking beast within each of us—and start with me.
---
Christy Britton is a wife, homeschool mom of four biological sons, and soon-to-be mom of an adopted Ugandan daughter. She is an orphan advocate for 127 Worldwide. She and her husband are covenant members at Imago Dei Church in Raleigh, NC. She loves reading, discipleship, Cajun food, spending time in Africa, hospitality, and LSU football. She writes for several blogs, including her own, www.beneedywell.com.