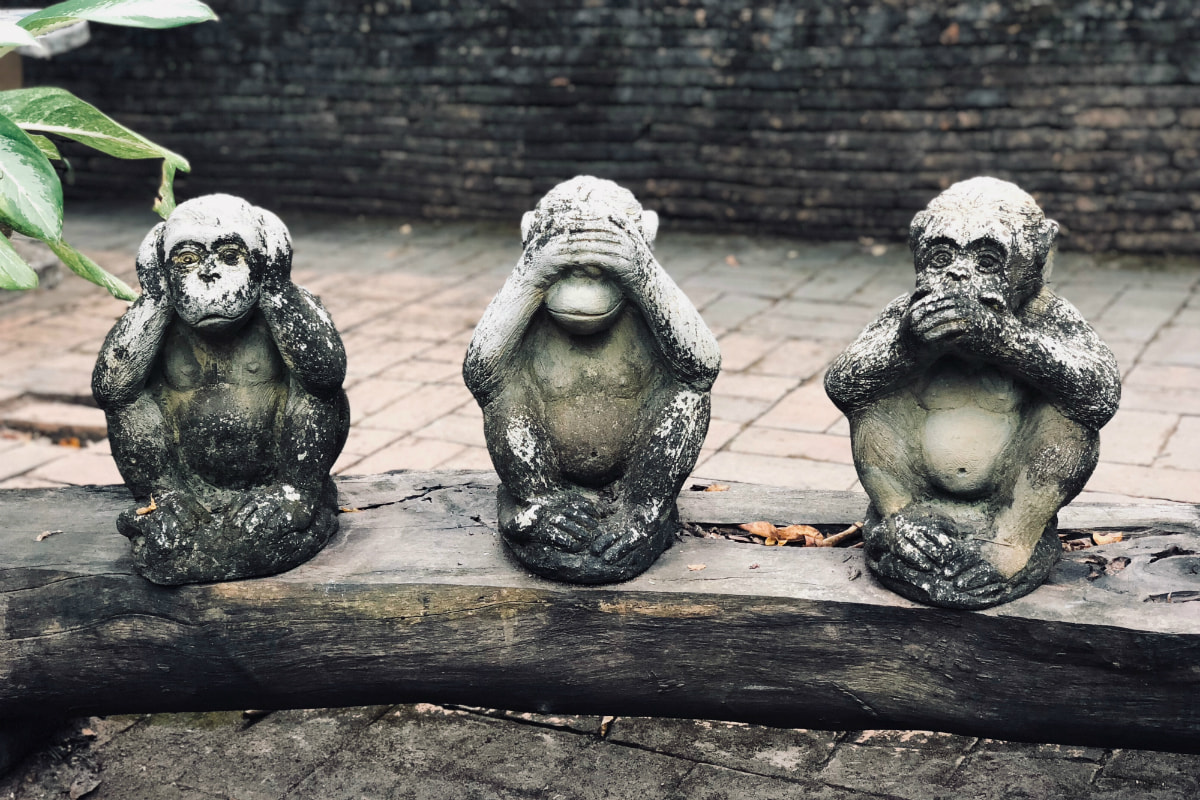 Humans have always loved idols. Israel's history shows us that no matter how many miraculous wonders we witness, our hearts will always elevate the created before the Creator (Rom.1:25). What began as statues to Baal, Asherah poles, and Greek temples, continues to permeate our culture. These days, our idols look a bit nobler—a spouse, children, happiness, comfort, health—but they enslave us just like the idols of old.
Our idols don't just settle for helping us break the second commandment, they permeate much deeper in our lives. The Psalms tell us that those who trust idols will become like them (Ps. 135:18). We may not turn into stone and wood, but eventually, the idols of our heart can chip away at significant areas in our spiritual lives.
The idols we create are blind, deaf, and mute, and if we continue serving them, we'll eventually become the same. If left undisturbed and ignored, we may begin to lose our own sight, become deaf to others, and render our speech useless to the surrounding world.
Blind to Our Sin
One of the first ways we become like our idols is in becoming blind to our own sin. If we are in Christ, we have been given a new heart (Ezek. 36:26) and our eyes are opened to the gospel, yet the temptation to turn back towards darkness endures. It's why the author of Hebrews exhorted the church to take care that no one has an unbelieving heart, "leading you to fall away from the living God" (Heb. 3:12-13).
Each person, feeling, circumstance, or dream we hold up as more important than God is ultimately a declaration of unbelief. Our idols make us believe that God won't satisfy more than our they can. Our idols make us think that God's grace isn't enough, so we must make our own rules. They make us think that seeking our own comfort is more worthwhile than seeking the Lord's glory.
We may not say these truths out loud, but the subtle deceitfulness of sin (Heb. 3:13) will continue to feed our idols of unbelief, make excuses, and harden us to the sin we harbor. Some of us may continue to idolize health, blind to the ways we are trusting in our workouts to give us the peace that only God can give. Others may cloak our approval-seeking in righteous words like service or encouragement, but in reality, our idols stay hidden behind the sin we can't see.
The trouble is, we can't crush what we can't see. This is where the passage in Hebrews gives us great hope. We must "exhort one another daily" (Heb. 3:13). Just as we could not open our eyes to Christ without his work, we need the Holy Spirit and Christ's church to open our eyes to our blindness—even after salvation. It's our brothers and sisters who can illuminate the darkness, and the Holy Spirit alone who can give us back our sight and put to death the idols of unbelief in our hearts.
Deaf to Our Brothers and Sisters
Our idols can make us become blind to our own sin, but they can also cause us to become deaf to our brothers and sisters in Christ. We see this played out in big and small ways in the church, whether it's the prideful parent who refuses to seek any outside help, or the church member holding his politics so tightly that he can't hear the concerns of a brother in Christ. Our strong opinions, steeped in the idolatry of self, can keep us so attuned to our own views that we can't stop to give grace or charity to our dissenter.
But Christ calls us to something radical. He not only tells us to open our ears but to go even further by outdoing one another with honor (Rom. 12:10). We are told to bless those who hurt us, to be humble in our own eyes, and do what is honorable in the sight of all (Rom.12:14-17).
Beginning to knock down these idols begins by first finding the root. Where are we deaf to the concerns and wisdom of our brothers and sisters in Christ? What topics do we bristle at hearing a word of correction? Or what topics do we refuse to seek wisdom in?
You'll likely have to ask a trusted brother or sister to help you see what you cannot. Of course, our brothers and sisters in these disagreements are sinners too, but Jesus tells us our first step is always to look upon our own sin (Matt. 7:3).
Mute to the World
Finally, our idols can mute our voice to the world around us, which fleshes out in two ways. The first is seen when our idols make us look exactly like the world around us. When we idolize comfort, a job, or happiness, we will inevitably be tossed into anxiety when these idols are not met. When the job is lost or life gets difficult, we will look no different than the unbeliever in the cubicle sitting right to us.
As Christians, however, our lives should look different because our hope is completely different. That doesn't mean that we can't feel stressed or experience difficulty, but it does mean that our priorities should look different than the unbelievers around us. When we continue to let the idols of our hearts take over, they rob us of the chance to preach a different and beautiful story to the world around us.
Secondly, our idols keep us from purposefully entering into the lives of those around us. Who has time to develop a relationship with a neighbor when we are too busy with our own projects? How do we encourage the woman behind us in the checkout when we are too concerned with our phone? The nature of man-made idols is that they must be maintained. We must keep feeding our need for approval, tone our body, multiply our entertainment—and when we do we are left with little time for else.
But again, Jesus calls us to something radical. We have a different mission than maintaining our idols. Instead, we are to give up our hold on everything in this world to gain everything in the beauty of Christ. We are to make disciples (Matt. 28:19-20) and to proclaim his name among the people God has put around us. And if we want to be ready to give an answer for the hope we have in Christ (1 Pt. 3:15), we must first clear away the idols that rob us of that voice.
Good News for Idolaters
While it's painful to see the grip of idolatry, the good news is that we worship the God who stands above every idol. Just as the ancient statue of Dagon fell to the ground before the Ark of the Covenant, our own idols will fall prostrate before the true God of heaven (1 Sam. 5:2).
We don't have to feel defeat but can seek out our idols so we can destroy them. We can stop to see what has been keeping us from speaking the gospel to those around us. We can ask God to show us where our ears have been closed to our family in Christ. And we can ask from the Holy Spirit and our brothers and sisters to help show us the sin we can't see.
We may start to become like our idols, but it's the power of the cross—the same power that raised Jesus from the dead—that gives us the power to crush them. Each day we can lean on the God who continues to breathe life and hope into our blind, deaf, and mute hearts.
---
Brianna Lambert is a wife and mom to three, making their home in the cornfields of Indiana. She loves using writing to work out the truths God is teaching her each day. She has contributed to various online publications such as Morning by Morning and Fathom magazine. You can find more of her writing paired with her husband's photography at lookingtotheharvest.com.