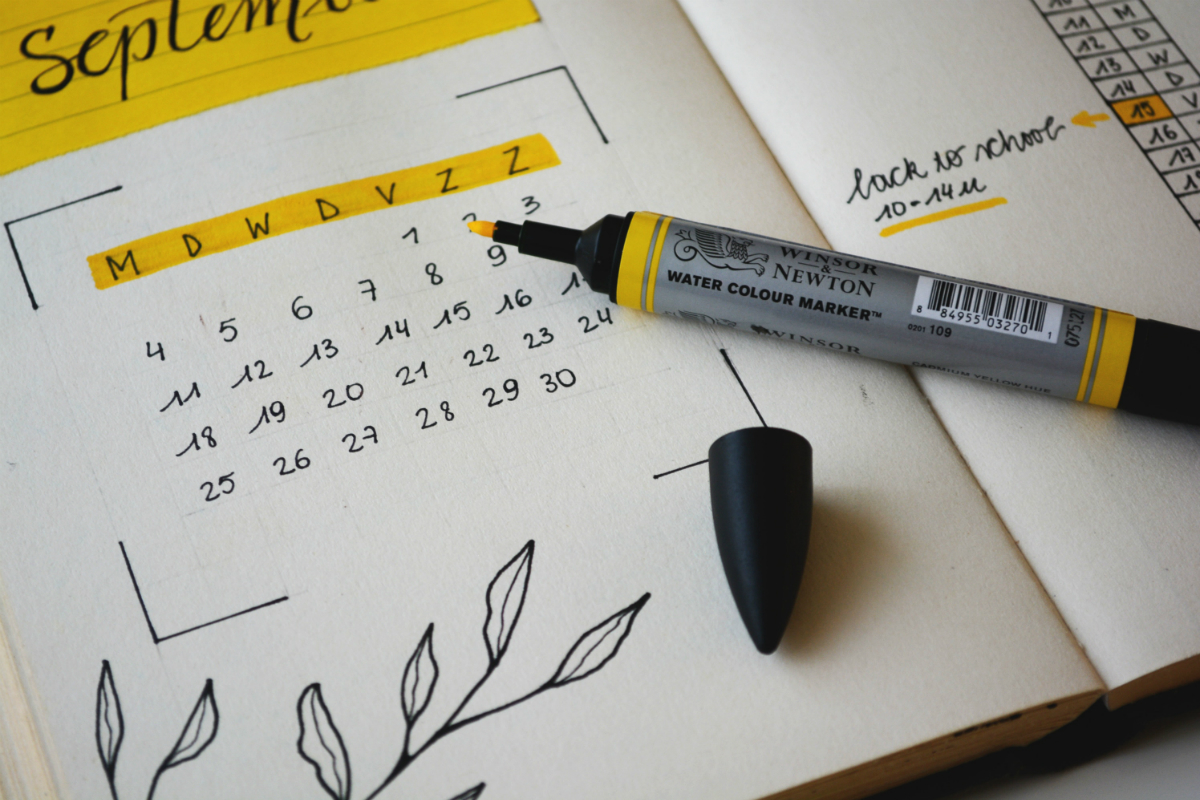 We are nearly halfway through 2018. How are you doing with the goals you set in January? Unfortunately, many of the resolutions made during the New Year are abandoned within just a few months. The gyms that were bursting at the seams in January are now nearly vacant. Fast food chains saw a dip in sales in mid-Winter, only to be back with a vengeance in early Spring. Why does this happen? Why do people continue to make resolutions only to drop them completely months or even days later?
Perhaps part of the problem lies in our microwave mentality that expects change to happen overnight or our desire to "pull ourselves up by our bootstraps" and meet our goals through our own strength.
We often see the goals we have as mountains we must traverse through sheer will-power and determination, but what if we have it all wrong?
What if practically keeping our goals is not like scaling a mountain, which requires large steps and allows us to see immediate progress?
What if reaching our goals is a much slower, deliberate process, requiring many small actions over time, like the slow accumulation of the tiny grains of sand that comprise a large sand dune?
THE SIGNIFICANCE OF THE SMALL
We can easily become intimidated and discouraged by trying to tackle a large goal all at once.
The truth we often miss is that in order to accomplish anything, we must take small daily steps towards our goals. These small daily habits, even if they only take up fifteen minutes of our day, build upon previous actions, until our goal is finally realized.
We see this principle throughout scripture, where we see how seemingly infinitesimal things can grow into something magnificently large.
Jesus often pointed the disciples' attention to the mustard seed and how modestly small it was. He spoke of how our faith, though as small as a mustard seed, could move mountains.
He explained the exponential growth of the kingdom of God by comparing it to the tiniest seed that grows into a colossal tree.
He spoke of yeast and how the smallest bit could spread throughout an entire piece of dough, leavening it completely.
So it is with anything we try to accomplish to the glory of God. The small steps we take each day, by the power and grace of God, can grow into something bigger than we could ever fathom.
RIGHT MOTIVATION IS KEY
Many times, we fail to accomplish our goals because the motivations behind those goals are wrong. If your motivations for reaching a goal are weak or superficial, then the entire thing will collapse or blow away in the wind.
For example, you may have a goal to work out more, but do you want to do this for vanity's sake or for the purpose of being healthy and strong? You may desire to serve in your church, but do you desire to do this so that you will be perceived a certain way or because you are seeking to bring glory to God?
Failure is imminent if we base our life goals on worldly ambitions, rather than what is important in light of eternity.
Jesus in Matthew 6:33 shows us where our priorities should lie, "But seek first the kingdom of God and his righteousness, and all these things will be added to you."
We need to ask ourselves, "Are our goals self-centered or are they Christ-centered? At the end of the day are they glorifying to God? In reaching these goals, are we loving others better?"
If not, we must ask God to shape our goals and to give us right desires. Self-centered goals are short-lived goals. They are superficial and empty. The motivations behind our biggest goals must be Christ-centered, otherwise, they will ultimately fade away
PERSISTENCE IS ESSENTIAL
Sand dunes are formed in a harsh and ever-changing environment, with shifting sands and fearsome winds. Our lives can sometimes seem to mirror the chaos of a dune being formed in the desert. As soon as we lay down a base of sand, some of it blows away, and it can feel like every step we take forward takes us ten steps back.
Horrendous storms can come into our lives in the form of the loss of a job, the breakdown of a relationship, or a chronic illness. These storms can seem to blow away all we have worked for.
The truth is everyone faces setbacks. It is those who persist despite the discouragement who will see the fruit of their labor, even if it is years down the road.
We can often reason that if only we were in another season of life, reaching our goals would be easier. The truth is that every season of life is challenging in its own way and conditions will never be perfect for our goals to take shape.
When we make it a goal to make disciples, do we give up when the person we are meeting with flakes out on us, or do we persist? Do we pursue that person as Christ has pursued us?
When we want to make it a goal of being in the Word daily, do we give up when we take on a career that requires a lot of our time? Or do we carve out the time we need with our Savior, even if it means sacrificing sleep?
When loving our spouse well becomes difficult or inconvenient, do we persevere in love, or do we retreat to what is comfortable?
We must learn to persist even in the midst of discouragement and inconvenience if we want to see the fruit of our labor.
THE STRENGTH THAT GOD SUPPLIES
With all of the storms and difficulties of life, it can seem impossible to find the strength to persist. How do we do this?
Ultimately, the ability and strength to work towards our goals come from God.
Peter writes in 1 Peter 4:10-11, "as each has received a gift, use it to serve one another, as good stewards of God's varied grace: whoever speaks, as one who speaks oracles of God; whoever serves, as one who serves by the strength that God supplies—in order that in everything God may be glorified through Jesus Christ. To him belong glory and dominion forever and ever. Amen."
Our ultimate goal should be to glorify God. We are merely stewards of the gifts, talents, relationships, and resources God has given us and we must use them with the wisdom and strength he alone can supply.
We must depend on God's strength as ours will ultimately fail.
The prophet Isaiah echoes this truth, "Do you not know? Have you not heard? The Lord is the everlasting God, the Creator of the ends of the earth. He will not grow tired or weary, and his understanding no one can fathom. He gives strength to the weary and increases the power of the weak. Even youths grow tired and weary, and young men stumble and fall; but those who hope in the Lord will renew their strength. They will soar on wings like eagles; they will run and not grow weary, they will walk and not be faint," (Is. 40:28-31).
We can be sure that whatever we attempt for the glory of God, he will supply the strength we need. He is a never-ending well of power to those who realize their weakness to do anything in their own power (John 15:5).
Let us lean on the strength he gives as we steward the time and gifts he has given us. The world will tell us that we need more will-power, more self-control, more determination.
The truth is we need more Jesus.
He will be our strength in weakness. He will give us the right desires and dreams that we couldn't have dreamt ourselves. His ways are not our ways, and his thoughts are higher than our thoughts (Is. 55:8-9).
Here are some questions to ask yourself as you finish out the second half of 2018:
What are your goals?
Are your motivations behind your goals self-centered or Christ-centered?
Are there some goals you have given up on that you need to pick back up again?
Are you persisting in these goals in your own strength or by the strength that God liberally supplies?
No matter where you are in this journey, may you be encouraged to run this race well, to throw off anything that is hindering you, and to fix your eyes on Jesus, who is the author and finisher of your faith (Heb. 12:1-3).
---
Delilah Pugsley is a wife, friend, sister, daughter and a Christ-follower serving in a church plant in Mid-Missouri. She writes on her blog https://www.graceinreallife.com, and you can reach her at delilahpugsley@gmail.com.