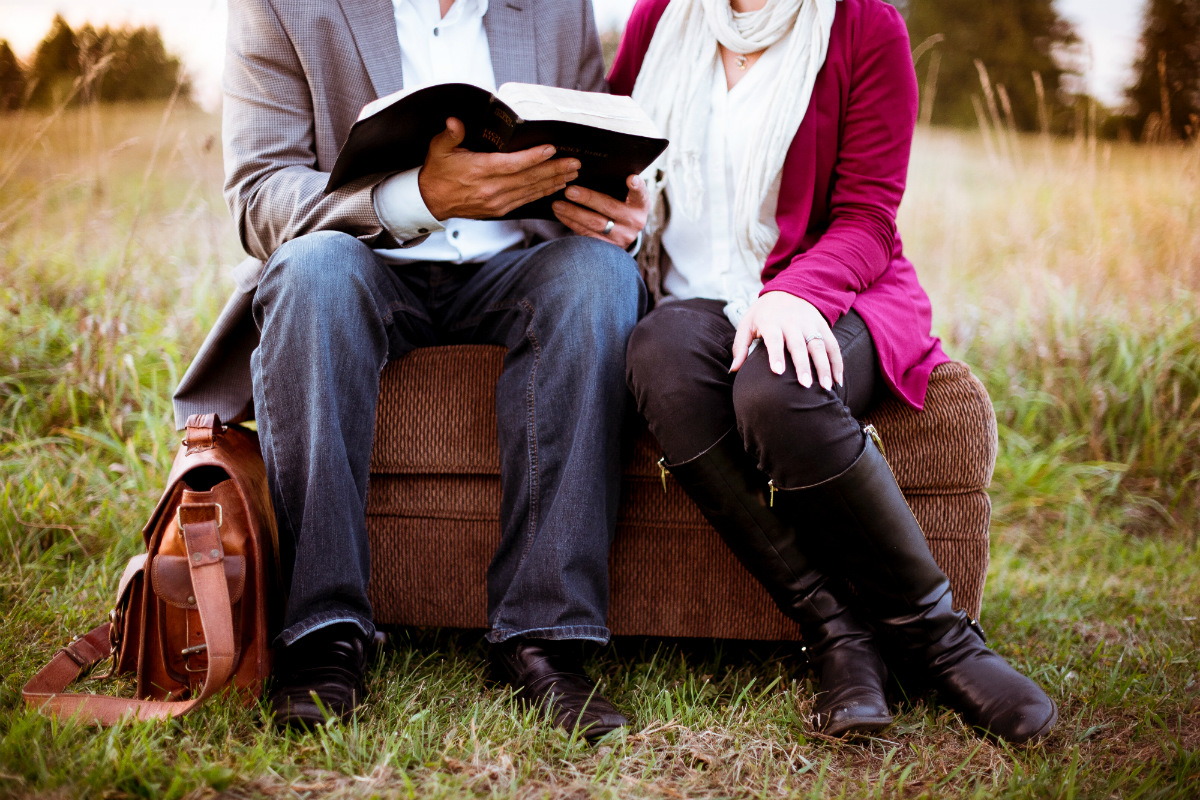 My wife, Charlotte, and I got married young. She was nineteen and I was twenty-one. I came from a good Christian home. My parents and grandparents were all Christians. Charlotte, in stark contrast, came out of a broken home. Both of her parents were alcoholics. They divorced when she was seven. At age nine she, her sister, and her brother were placed in the Georgia Baptist Children's Home, where she lived until she was eighteen. During those years she almost never saw her parents. Her father did not attend our wedding, though he lived in the Atlanta area where we were married.
I say all this to point out that we came into our marriage with very different perspectives and expectations. I knew what a good home was and recognized that good was good. Perfection, though the ideal, would not be reached in this life since marriage is two sinners (saved by grace if they know Jesus!) living in close proximity.
Charlotte was absolutely determined not to follow in the footsteps of her parents. She was going to have the perfect marriage if it killed us both (and it nearly did on more than a few occasions)!
Add to this that we had no premarital counseling, for three reasons: (1) The year before we married, I attended Bible college in Dallas, and she was in Atlanta living with my parents. (2) The week before we married, our pastor—who married us—announced that he and his wife were getting a divorce. The one time we did meet with him, he apologized through tears, saying he really did not feel he could say anything to us. (3) In almost seven years of Bible college and seminary, I had exactly one class on marriage and family, which came outside my seminary education. I have no memory of a discussion on the home in seminary. None at all.
Given this background, you can imagine that our early days of marriage were quite challenging. Some were downright trying. Charlotte and I loved each other, and divorce was never an option, but all was not blissful, and the sailing was not smooth. We had some tough days.
I am writing this piece having just celebrated our thirty-eighth wedding anniversary. I can honestly say that outside of Jesus, nothing has brought me more happiness and joy than being a husband, father, and grandfather. But it has been hard work, and no one in seminary ever told me it would be. I have learned through the years and in the school of "hard knocks" that there are things I could have done to shepherd my wife more effectively and lovingly. Unfortunately, I didn't learn these things during my years in seminary.
I have had the joy of doing marriage and family conferences for several decades. You could say it is my spiritual hobby. Charlotte says I need to do at least one a month because I keep forgetting what I teach! Unfortunately, there is quite a bit of truth in those words.
When it comes to husbands, I first do an exposition of Ephesians 5:25–33. Then, I build on that foundation, draw from other relevant passages, and share seven practical ways to bless your wife day in and day out. I would argue that these ideas are true for every husband. I would also argue that they are especially needful for those who shepherd God's flock. I wish I had been taught these things in seminary. But better later than never.
7 WAYS TO BLESS YOUR WIFE
A husband can be a blessing to his wife by loving her as Christ loved the church and giving her specific gifts of love. Here are seven:
1. Be a spiritual leader. Be a man of godly courage, conviction, commitment, compassion, and character. Take the initiative in cultivating a spiritual environment for your family. Become a capable and competent student of Scripture, and live all of life on the basis of God's Word. Nurture your wife in her growth as a woman of God, and take the lead in training your children in the things of the Lord (Psalm 1; Eph. 5:23–27).
2. Give your wife personal affirmation and appreciation. Praise her personal attributes and qualities. Speak of her virtues as a wife, mother, and homemaker. Openly commend her in the hearing of others as a marvelous mate, friend, lover, and companion. Help her feel that no one in this world is more important to you (Prov. 31:28– 29; Song 4:1–7; 6:4–9; 7:1–9).
3. Show personal affection (romance). Shower her with timely and generous displays of affection. Tell her how much you care for her with a steady flow of words, cards, flowers, gifts, and common courtesies. Remember, affection is the environment in which sexual union is enjoyed more fully and a wonderful marriage is developed (Song 6:10, 13; Eph. 5:28–29, 33).
4. Initiate intimate conversation. Talk with her at the level of feelings (heart to heart). Listen to her thoughts (her heart) about the events of her day with sensitivity, interest, and concern. Let your conversations with her convey a desire to understand her—not to change her (Song 2:8–14; 8:13–14; 1 Pet. 3:7). Changing her is God's job, not yours.
5. Always be honest and open. Look into her eyes and, in love, always tell her the truth (Eph. 4:15). Explain your plans and actions clearly and completely because you are responsible for her. Lead her to trust you and feel secure (Prov. 15:22–23).
6. Provide home support and stability. Shoulder the responsibility to house, feed, and clothe your family. Provide and protect, and resist feeling sorry for yourself when things get tough. Look for concrete ways to improve home life. Raise your marriage and family to a safer and more fulfilling level. Remember, the husband and father is the security hub of the family (1 Tim. 5:8).
7. Demonstrate family commitment. After the Lord Jesus, put your wife and family first. Commit time and energy to spiritual, moral, and intellectual development of your children. For example, pray with them (especially at night at bedside), read to them, engage in sports with them, and take them on other outings. Do not play the fool's game of working long hours, trying to get ahead, while your spouse and children languish in neglect (Eph. 6:4; Col. 3:19–20).[1]
These are things I did not learn in seminary. I had to learn them in life. And I'm grateful I learned them from expositing the Word of God!
---
Content taken from 15 Things Seminary Couldn't Teach Me edited by Collin Hansen and Jeff Robinson Sr., ©2018. Used by permission of Crossway, a publishing ministry of Good News Publishers, Wheaton, Il 60187, www.crossway.org.
[1] For related discussion, see also Daniel L. Akin, "Pastor as Husband and Father," in Portraits of a Pastor: The 9 Essential Roles of a Church Leader, ed. Jason K. Allen (Chicago: Moody Publishers, 2017), and Akin, Exalting Jesus in Song of Songs (Nashville: B&H, 2015).
Daniel L. Akin is president of Southeastern Baptist Theological Seminary in Wake Forest, North Carolina, and is a council member with The Gospel Coalition.