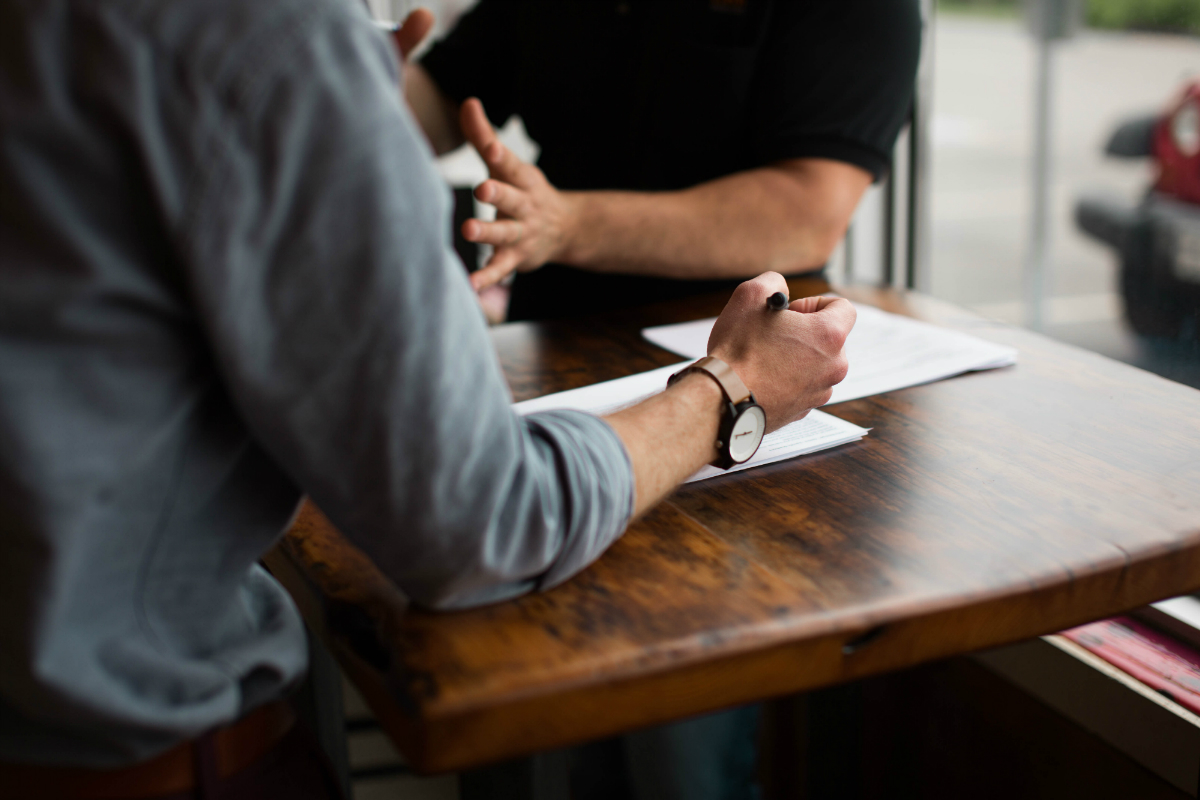 Discipleship. It's a word we throw around in the church, and it's a word that's not explicitly used in the Bible. We do find the word "disciple" in Scripture—a noun that means learner, pupil, or follower. Jesus uses this word to describe his followers—those who learn from him, walk closely with him, and obey his teachings.
We also find the phrase "make disciples"—a verb phrase that is found in the Great Commission where Christ's disciples (and all his followers from that moment on) were told to preach the gospel, baptize new believers, and teach them to observe the commands of God.
But what is discipleship?
INVITATION TO A PROCESS
Christ charges his followers to go and make disciples, "teaching them to observe all that I have commanded you" (Matt. 28:16-20). This "teaching" includes the sharing of nuggets of wisdom with a believer that you may only encounter once.
But this command is also an invitation to more. It is an invitation to a lifelong process of teaching, also known as discipleship.
Discipleship, as we define it today, can look many different ways, but it must include this aspect of teaching one another to observe the commands of the Lord. This doesn't have to happen in a coffee shop and it doesn't have to involve a hard and fast structure or a deep curriculum. It doesn't have to be conducted by a pastor or minister.
Rather, as believers, we are charged to teach and disciple one another by inviting one another into our lives, sharing what we know to be true about the Lord, and encouraging one another to walk in obedience to God's commands.
Discipleship is not an activity reserved for the pastors and staff of your church. In fact, the primary way the church body will mature and multiply is through the commitment of every single church member to disciple those behind them.
BIBLICAL UNDERSTANDING
Hebrews does an excellent job of summing up what discipleship is:
"Take care, brothers, lest there be in any of you an evil, unbelieving heart, leading you to fall away from the living God. But exhort one another every day, as long as it is called today, that none of you may be hardened by the deceitfulness of sin." –Heb. 3:12-13
This word exhort literally means to call to one's side, to comfort, to instruct, to encourage, to request help, to strengthen. The author of Hebrews hints at the ever-present temptation for believers to be "hardened by the deceitfulness of sin." Jeremiah teaches that "the heart is deceitful above all things, and desperately sick" (Jer. 17:9).
As believers, we are all desperately in need of the strength and exhortation that other believers can provide. We are all desperately in need of discipleship.
Inherent in this instructing, teaching, and exhorting is a level of vulnerability and humility that is key to discipleship. In order to be encouraged and admonished, you must be known by someone at a level that allows them to call out your sin and challenge you to deeper obedience.
This is what we are called to as believers, as disciples, as "Christians engaging in discipleship."
We are called to know one another in a way that we are able to instruct and strengthen one another.
No Christian is exempt from this and no Christian is unequipped for this.
The life of a believer is a life in community with the church. And if you have been redeemed by the Lord, if you have been brought from death to life, if you have any knowledge of the Lord, then you have a story that can encourage, exhort, and strengthen a fellow believer or nonbeliever.
Every Christian is capable of discipleship and called to discipleship.
THE STRUCTURE
Countless models, structures, books, and curricula have been created in order to lay out a process of how to "do discipleship." There are seemingly infinite resources on what it looks like to mature a believer in the faith. This poses a benefit and a challenge to those seeking to engage in discipleship.
Oftentimes, a believer seeking to disciple another believer is overwhelmed simply by the sheer amount of material and opinions regarding this topic. They feel the pressure to pick the right curriculum, to have the right material to teach, or to understand a complicated discipleship structure and process.
While it is true that discipleship is an intense and important process, believers need to give themselves permission to step out from under this pressure because, believe it or not, discipleship can be simple.
While the method and structure of discipleship may vary, there are a few vital factors to consider: intimacy, commitment, vulnerability, and prayer.
From my experience, discipleship is most effective with a very small group (2-4 is ideal for fostering intimate connections) of same-sex believers, who are committed to meeting regularly and who desire to be vulnerable with the difficult and ugly parts of their lives. These groups must be bathed with prayer and members must be committed to relying on the Word of God, not their opinions or desires, to guide and direct them.
Books and discipleship structures can be helpful, but for those seeking a simple process, these four elements provide a great place to start.
THE CHALLENGE
One of the lines I hear most often from young men and women in the church is, "I would love to be discipled, I just don't know anyone who would want to disciple me."
Funny enough, I often hear wise and experienced men and women in the church say, "I would love to disciple someone, I just don't know anyone who would want to be discipled by me."
Church members, you're looking for each other!
If you are a young believer who is seeking this type of relationship, I encourage you to ask a more spiritually mature man or woman in the church to begin meeting with you. I guarantee you that person will be honored and excited about the opportunity to pour into your life.
If you are an older man or woman who has wisdom and a life of experience walking with God, I encourage you to find a younger believer to meet with. I guarantee you they will be thankful for the opportunity to learn from you.
As believers, we must bravely pursue discipleship relationships if we desire to grow into mature followers of Jesus.
THE CAVEAT
While there are likely many incredible men and women in your church who can disciple you, be careful to never let the role of a spiritual mentor come before the Holy Spirit's role of discipleship in your life.
It is the Spirit who gives life and indwells every believer. It is he who applies Christ's benefits to us and it is by his power and instruction that we grow in our faith.
There will be a time where you are awake at 2:00 a.m. in a crisis of faith or a time of deep confusion (if this hasn't happened to you yet, just wait, it will), and before you reach for your phone to call that wonderful spiritual mentor in your life for advice, I challenge you to first reach for your Bible and dig into the Word of God for the truth that is there. I challenge you to spend time in prayer and to seek guidance and comfort first from the Lord.
If you don't have someone in your life right now who can pour wisdom into you, press into the truth that is found in the Bible and be encouraged by the living Word of God.
It is crucial that, as believers, we all learn how to feed ourselves from the Word and to go first to the Lord for wisdom and guidance and comfort. And then we can bravely seek exhortation and wisdom from the trustworthy disciples in our lives.
DISCIPLESHIP FOR THE GLORY OF GOD
So what is discipleship and how do we do it?
Discipleship is a lifelong process of growing in knowledge of and obedience to Jesus Christ.
As Christians engaging in discipleship, this means we humbly teach, strengthen, and exhort one another to know and follow Jesus more closely. This means we bravely pursue relationships centered on intimacy, commitment, vulnerability, and prayer, all the while relying on the power of the Spirit and the Word of God to mature and mold us.
We do all of this for the purpose of more deeply knowing God and magnifying his glory among all people.
---
Lauren Bowerman currently lives just outside of Denver, CO but has been privileged to call many cities, states, countries, and continents home. Her transient life has cultivated in her a deep love for diverse cultures and people. As a writer and a pastor's wife, she is passionate about encouraging God's people through writing on her blog (www.lauren-bowerman.com) and through discipleship.