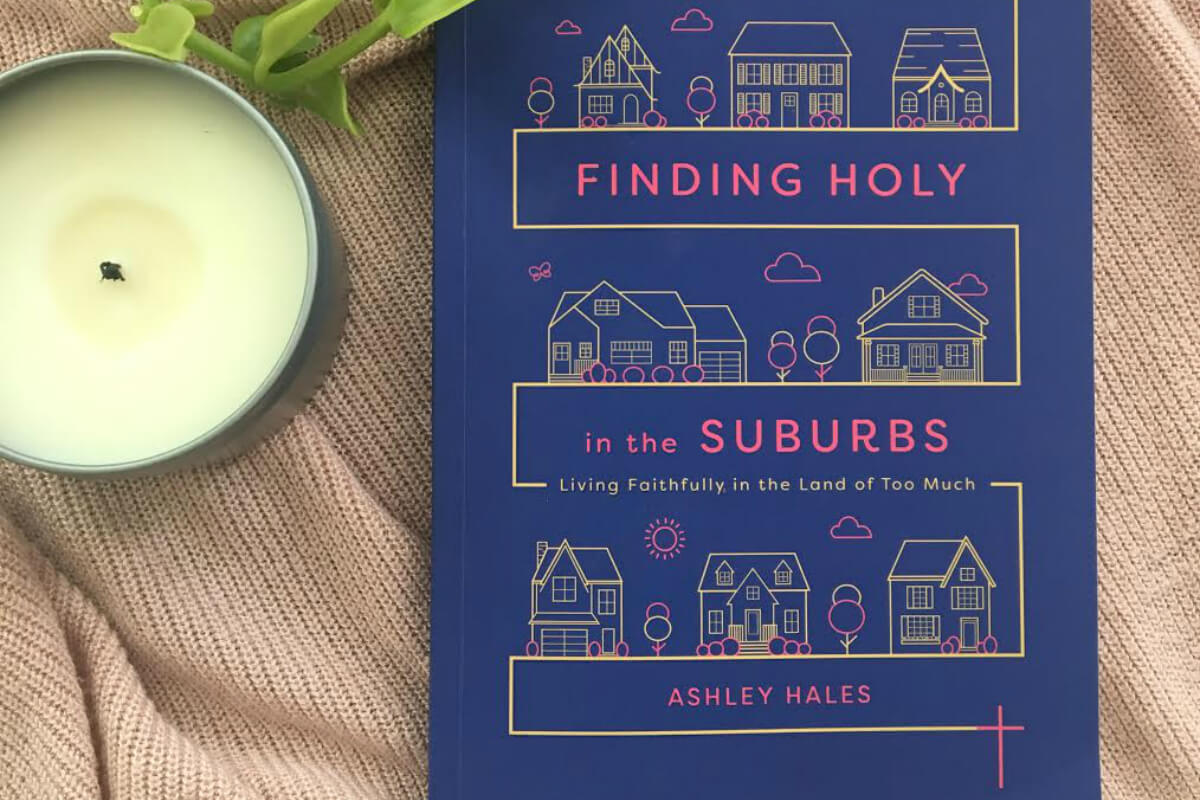 One evening when reading our dinner devotional book, I read about the Feast of Trumpets, a once-a-year event when the Israelites were called (literally) to repentance. The trumpet would sound and they'd remember that their time was God's gift and whether they'd spent it well or not. Nancy Guthrie writes, "God set up a yearly holiday called the Festival of Trumpets to blast the people out of their spiritual laziness."
Sometimes I wish we'd get a trumpet blast to arouse us out of our spiritual stupors, so we'd be forced to see how we use busyness to block our ears.
Slowing Down
We need trumpet calls and wake-up calls. We need to say no to the things that lead us away from the story of God and lead us to follow a story of the suburbs. The suburbs keep us busy because we think the more we move, the more we work, the more valuable we will be. If we hope to nurture a life of faith, we've got to stop moving long enough to hear God's voice.
The gospel says: come to the desolate space. Tantrum, scream, cry, face your fears of insignificance and irrelevancy there. Then find rest in a rest that is not of your own making. Find Jesus. And having found Jesus, we will be sent out, and he will ask us impossible things—not to test us but to show us (even in the food we eat) that he provides not only for our hungers but also for the hunger pains of our communities.
God will be found by us in the desolate spaces. Going to desolate places might look like recalibrating our time to fit what we say we value. It might be removing our phones from our nightstands and choosing to not document our lives on social media. It may be committing to read our Bibles even when we're not sure if God will show up.
Our time is not our own to fill like an empty shopping cart—with whatever strikes our fancy and fits our budget. Our time (like our money) is a means to love God and serve others. Paradoxically, only as we give of our resources will we be filled. This isn't American bootstrapperism where we muscle it out to be generous; instead it's slowing down and acknowledging that we have a Father God who sees our needs and kindly answers them for our good and his good pleasure.
But if our schedules are packed too tight—like our closets—there will never be room to let in anything new, including God. Our daily habits, our weekly schedules, and our purchases all add up to how we spend our lives. Anything we turn to that dictates our daily habits also shapes our hearts. We hunger for good work and restorative rest, and yet we stay busy because we fear we won't find anything in the desolate places. But what if instead of circling the suburbs or distracting ourselves, we simply stopped? What if we said no more often? What would happen if we slowed down?
We could begin to live ordinary time well.
Living Ordinary Time Well
When we live ordinary time well, we practice disciplines that increase our hunger for the right things—not the quick-fix chicken nuggets of the soul, but the nutritious meal. We pray. We read our Bibles. We give. We serve. We partake in the sacraments and dig our hands into the life of the church.
When we live ordinary time well, we choose to spend our time for God's kingdom instead of building up the kingdom of self. When we do, we don't have to force our days, plans, or even our memories to provide total satisfaction. In her book Simply Tuesday, Emily P. Freeman writes, "Part of living well in ordinary time is letting this day be good. Letting this day be a gift. Letting this day be filled with plenty. And if it all goes wrong and my work turns to dust? This is my kind reminder that outcomes are beyond the scope of my job description."
When we stop moving, we realize time was never our own. Then, our days can be received as gifts.
If we slowed down and pruned our schedules, we'd begin to decenter ourselves. We'd practice sustained attention and even be bored. We could begin to imagine what finding holy in the suburbs would look like in our hearts, families, and neighborhoods. We'd give our children the tools to know how to be comfortable in their own skin without having to perform to feel loved. We'd give them (and us) a better way to live in a culture that says you have to stay busy to be seen. We'd show them a better way to belong than through joining a frenzied, success- and image-driven culture.
You Don't Have to Be Busy to Belong
The upside-down kingdom of God in the suburbs stakes this claim: you don't have to be busy to belong. When we stop striving, we don't have to hoard our time or treasure. God's kingdom testifies that rest is possible, not just checking out from the rat race in your favorite version of suburban leisure, but more than that, we can experience a deep, restorative rest.
The gospel says that in Jesus we're held, protected, loved, and valued simply because we are God's children. But to imagine a vision larger than what our suburbs sell as success and productivity, we have to have the courage to slow down.
There we have the space to wrestle with all that our busyness hides and there, we pray, we will find God.
---
Taken from Finding Holy in the Suburbs by Ashley Hales. Copyright (c) 2018 by Ashley Hales. Published by InterVarsity Press, Downers Grove, IL. www.ivpress.com
Ashley Hales is a writer, speaker, pastor's wife, and mother to four. She holds a Ph.D. in English from the University of Edinburgh, Scotland, and after years away, she's back in the southern California suburbs helping her husband plant a church, Resurrection Orange County. She's the author of Finding Holy in the Suburbs and a contributor to Everbloom. Connect with Ashley at aahales.com.