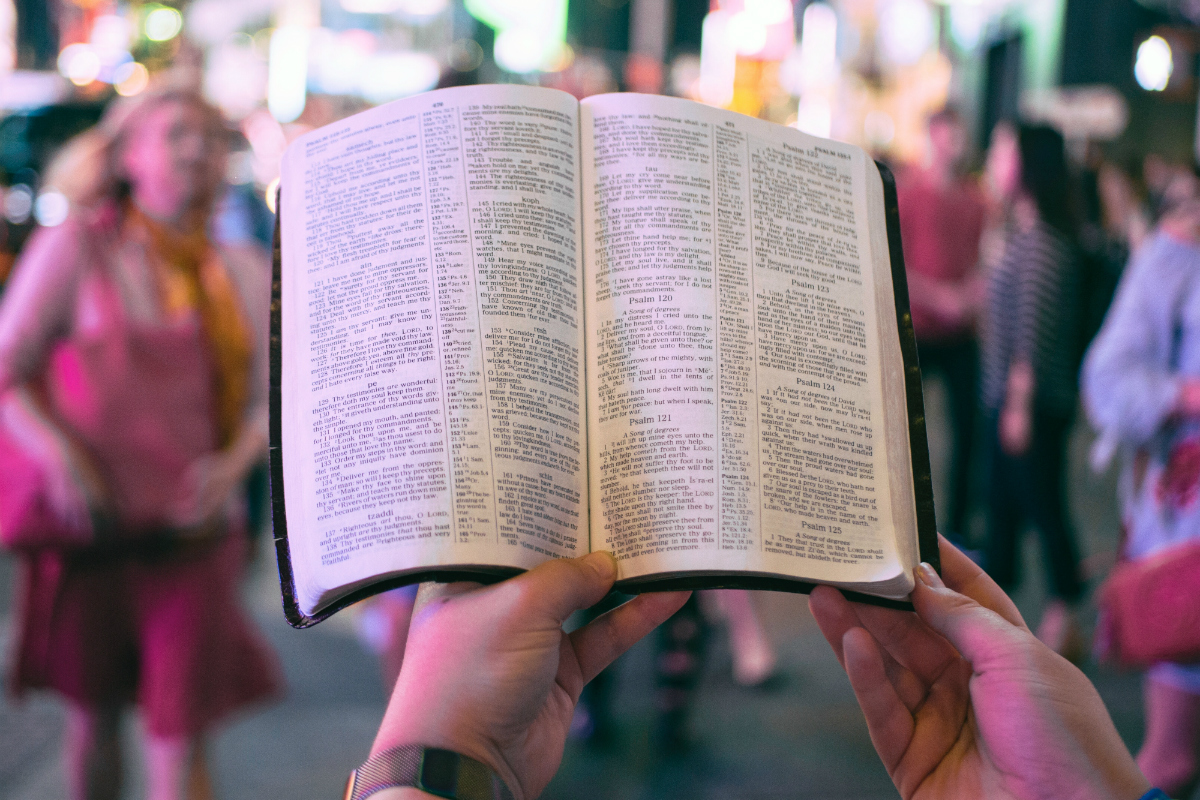 The world jumps over itself for what's edgy, new, and creative. Yet for believers, we have an old and unchanging story to tell. ­­ The tension between innovation and tradition is not a new conversation in the life of the church. Whether it's an emerging social media platform, the latest music, or the next trend, cultural shifts so swiftly we often find ourselves grasping to hang on.
The church, in contrast, is always looking back to "contend for the faith that was once for all delivered to the saints" (Jude 3), and we gladly rally around the old, unchanging story of a gentle Messiah who was crushed for our sin and raised to life three days later.
Unfortunately, with the ebb and flow of a rapidly changing culture, we might be pressured to come to the Bible with the same expectations.
We may start to wonder if we are equipped to face the challenges of our day—even when we know Scripture is unchangeably and immovably true—as if it's outmoded or archaic. We come to a quiet time and search for undiscovered angles, to the point of blurring the meaning. We might even start doubting that Scripture really can speak to us today.
When we start to wonder if the Bible's not enough in light of the particular struggles of our cultural moment, here are some important truths to keep in mind.
THE BOOK IS FROM HIM AND FOR US
When we constantly feel the need for something new or exciting to come from interacting with Scripture, we have forgotten the most important thing about it—its author. Feeling like we must find something novel or exhilarating each time we come to the Bible will send us scavenging for truth while missing the Giver of truth.
It's as if we think our own intuitive creativity and knowledge surpasses the God who ordered the stars in the heavens and fashioned the wings of a butterfly. Paul asks, "Who has known the mind of the Lord? Or who has been his counselor?" (Rom. 11:34). Even Solomon, the wisest man who ever lived, warned that we could not fathom the work of God (Eccl. 11:5). The truth is, we could never know the God who created the world if he had revealed himself to us through his Word and his Son (Heb. 1:1-2, John 1:1).
Because our God is faithful, we can trust that his revelation is all we need to hear pertaining to godliness and life (2 Pet. 1:3). We can rest to know that God has revealed his plan for the fullness of time by speaking to his people through his Word (Heb. 1:1-2; Eph. 1:9-10).
Each word of our Bible reveals the character of the God who created us. We must come to it humbly, allowing his word to tell us what questions matter, and wait as God shows us the unchanging truthfulness of his Word. No doubt he will speak to us in ways we had not noticed before. He desires to speak to us! But some areas we are left with real questions to ponder and wonder, humbly before God.
There is much we will not know, but we can be encouraged to know that each word is given or withheld with purpose (Rev. 22:18). Th book is from him and for us. Let's remember that the purposeful words of scripture depict the truth, plans, and purposes of its Author. These truths are binding on all peoples across all times and places (Eph. 1:7-10, cf. Acts 17:30-31). 
THE MESSAGE NEVER CHANGES, BUT THE WAY WE COMMUNICATE IT HAS TO
The Bible has been poured over, commented on, and debated for over 2,000 years. When we talk about the Bible, we're not saying anything new. And if we are, we're in trouble!
We desire to stand, so we are tempted to go to the Bible looking for something no one else has found. Instead of seeing our repetition of an old text as a limitation or as unoriginal, we can see it as an encouragement and confidence, being faithful to the truth handed down "once for all . . . to the saints" (Jude 3).
We can look back at well-known church fathers and theologians, missionaries and martyrs, pastors and leaders, and see how the same God and the same truths grounded and spurred them on to a life of faithfulness to the truth. The church has always been finding ways to communicate old (but good!) news to new audiences. The message is unchanging, but the way we communicate that message is always changing.
We stand surrounded by a "great a cloud of witnesses" to the same truth, the same story, and the same God (Heb. 12:1-2). We should be encouraged by the example of generations before us, how they read Scripture, and how Scripture's unchanging truth still speaks specifically to our cultural moment.
Let's dig deep into the Bible, but not to search for ways to make it shine more attention on ourselves. Rather, let's see how we can retell the same old story in a brand new day, all to his glory.
GOD NEVER CHANGES, WE DO
Finally, while it's true that God's word does not change—we do. And we do so constantly! R.C. Sproul has stated that if anything defines human existence, it's change.
And our impermanent selves are what we bring to the Word each day. We come to the text with different knowledge, different circumstances, and different places in sanctification. Yet we also come to God's Word with his Holy Spirit, who is constantly working in our hearts through each changing situation. He is removing blind spots, giving insight, and revealing the truth. This is why we can read the same passages repeatedly but still see new truths.
We don't need to do mental gymnastics to get some sort of profound new insight. Instead, we can rest in the Spirit's work to grow our hearts closer to him (Phil. 1:6). We can press on to know the Lord, and rest in knowing that when we do, God will respond and reveal himself through his Word (Hos. 6:3).
THE STORY THAT NEVER GETS OLD
We don't need to feel inadequate because our story never changes—it is our lifeline. It's the solid hope to cling to for a world drowning in ever-changing uncertainty. So let's enter our Bible studies and conversations with humility and confidence in the truths that have lasted from the beginning of time, and will continue to last for all eternity.
The unchanging God, the Ancient of Days, has revealed himself to an unstable and shifting people. Through his Spirit, he has chosen to make inconsistent people more and more like their consistently faithful God. And that story (John 1:1) never gets old.
---
Brianna Lambert is a wife and mom to three, making their home in the cornfields of Indiana. She loves using writing to work out the truths God is teaching her each day. She has contributed to various online publications such as Morning by Morning and Fathom magazine. You can find more of her writing paired with her husband's photography at lookingtotheharvest.com.