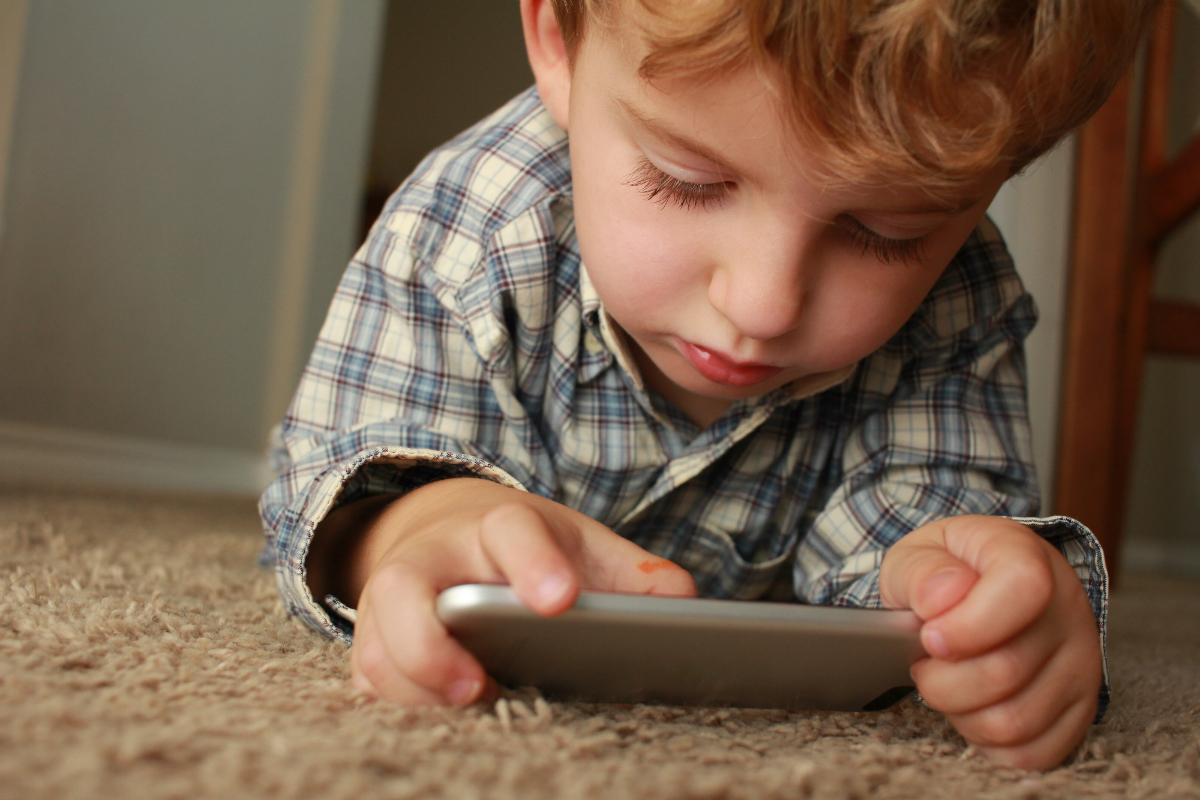 My three-year-old sat in her kid-sized chair, feverishly swiping and tapping on the phone while her siblings ran laps around the house and shouted their favorite tunes. Only it wasn't a phone she was playing with—it was a Hot Wheels car. We had long since decided against handing phones over to toddlers. In the absence of the real thing, our daughter did what all kids do and used her imagination. She flipped the car over and was pretending the flat bottom was a screen.
After realizing what was going on, I asked her why she would rather sit on the chair pretending to scroll through a phone than run and play with her siblings. Without looking up, she answered, "It's what all the big girls do."
My heart broke in that moment. It broke because she was right.
WHAT THE BIG GIRLS DO
My little girl had noticed a pattern, the same one you see when you look around the mall. What are all the big girls doing? When you go to the park, what are all the parents doing?
The average U.S. adult spends five hours per day on their mobile devices. As parents, our hands and schedules are probably full enough that we're not spending five hours on our phones, but how much time do we spend double-tapping and scrolling? Not long ago, the answer for me was far too much.
A couple of years ago, my husband and I were convicted of our use of technology. We took a hard look at how we used our devices and read about what happens when we're always connected. We started making changes. It wasn't easy. We struggled to put our convictions into words and explain to family members why we didn't want them showing our kids how to play games on their phones.
TECH-WISE COMMITMENTS
Then Andy Crouch wrote The Tech-Wise Family, which helped us articulate our thoughts and hearts. Crouch's book features ten tech-wise commitments, many of which we've adopted and made our own. In our home today (with four children six and under), we're committed to:
Leaving our phones out of sight and out of reach so we can focus on who God has in front of us
Minimizing the number of toys with buttons available throughout the house so our children develop the capacity of imaginative play
Reading aloud and talking during car rides (even hours-long road trips), so we can learn how to be around each other and engage more of our senses
Allowing kids to watch TV only rarely (about once a month), and only with the whole family so the screen becomes a novel, shared experience
I still use Instagram to stay in touch with my friends (and see pics of their kiddos!). I'm grateful for podcasts to listen to while I'm cleaning or exercising. But I can say that, by the grace of God, I'm not dependent on my devices. That's less because of behavioral modifications, though, and more because of what the Lord has shown us through our tech woes.
OUR REFUGE IN THIS DIGITAL WORLD
My daughter's comment—"It's what all the big girls do"—revealed that while we can seek to create a tech-wise home, we can't fully shield our children from a tech-saturated world; a world with screens on our wrists, in our pockets, and in our living rooms and bedrooms.
Throughout Scripture, God calls his people to stay faithful regardless of what the world worships. Jesus did just that when he came to Earth. He was in the world, but not of it. He dined with sinners, yet remained free of sin. And he calls us to do the same.
But it's so easy to get lost in questions like What boundaries do we set? How much screen time should my kids have? How old should kids be before they play video games?
When I get lost in these questions, I forget that sin and distraction entered the world thousands of years ago in a garden—not with the invention of the iPhone. Sin separated us from our Creator and sin will condemn us when we stand before him on the day of judgment.
But God loves us too much to let that be the end of the story. God longs to see our relationship with him redeemed. Psalm 34:22 tells us, "The Lord redeems the life of his servants, none of those who take refuge in him will be condemned" (emphasis mine).
When we take refuge in God, he promises redemption, not condemnation. But taking refuge in the Lord requires trust. And from day one, that's just what God has been after.
Christian parents can do many really good things without ever trusting God. In the early years, we can make kids eat their carrots before their chocolate. We can put boundaries around technology (as my family has).
But if we fail to daily submit our children, and our role as parents, to the Lord, then we miss the point. Our parental efforts at behavior modification are good, but they aren't primarily what God's after.
He's after our heart. And our hearts reveal what our motives truly are, and those determine our actions. If we want to address technology in our homes, we have to start with our hearts.
THE HEART OF THE MATTER
The next time you're evaluating tech use in your home, ask why you're really checking your phone or turning the TV on. Get to the heart of the matter. Are you justifying handing your phone to your child because you simply long for a break? Or the next time you go to check Instagram, ask what you're hoping to find—affirmation, satisfaction, relief?
Then consider getting your kids involved in the heart check too! Or at least begin the conversation. You may find what we did, that our child was mimicking what she saw around her because she longs to be "big." Or you may ask a thirteen-year-old and realize his or her worth and identity is wrongly wrapped up in their online presence.
Together your family can reflect on if the heart of your tech use is in line with the world or the Lord.
And if you're like me and my family, you'll probably be overwhelmed with the need to repent—of placing hope in getting something accomplished and using technology to "babysit" because it's easy (and free.) Or repent of placing trust in what others think of me and Instagram likes give me instant "love". When God reveals the true desires of my heart, and how out of line they are with his heart, my sin feels overwhelming.
But that's why the gospel is such good news! Because in Christ, I am redeemed by his work, not my family's tech habits. He doesn't love me more when I stand strong in our tech-wise commitments, and he doesn't love me less when I hand a screaming child a phone because I don't know what else to do.
Regardless of what "all the big girls are doing," I will continue to pray for my heart and my children's hearts. I will continue to beg God for the grace to trust him more. That might mean our family is more up-to-date with board book stories than Instagram stories, but we're learning to be okay with that.
---
Maggie Pope is the CEO of a small nonprofit that invests heavily in the lives of a handful of young children. Since the staff is small, she also serves part-time as the janitor, teacher, bread-baker, and driver. Okay, she's a mom. She lives in North Carolina with her husband and four children.