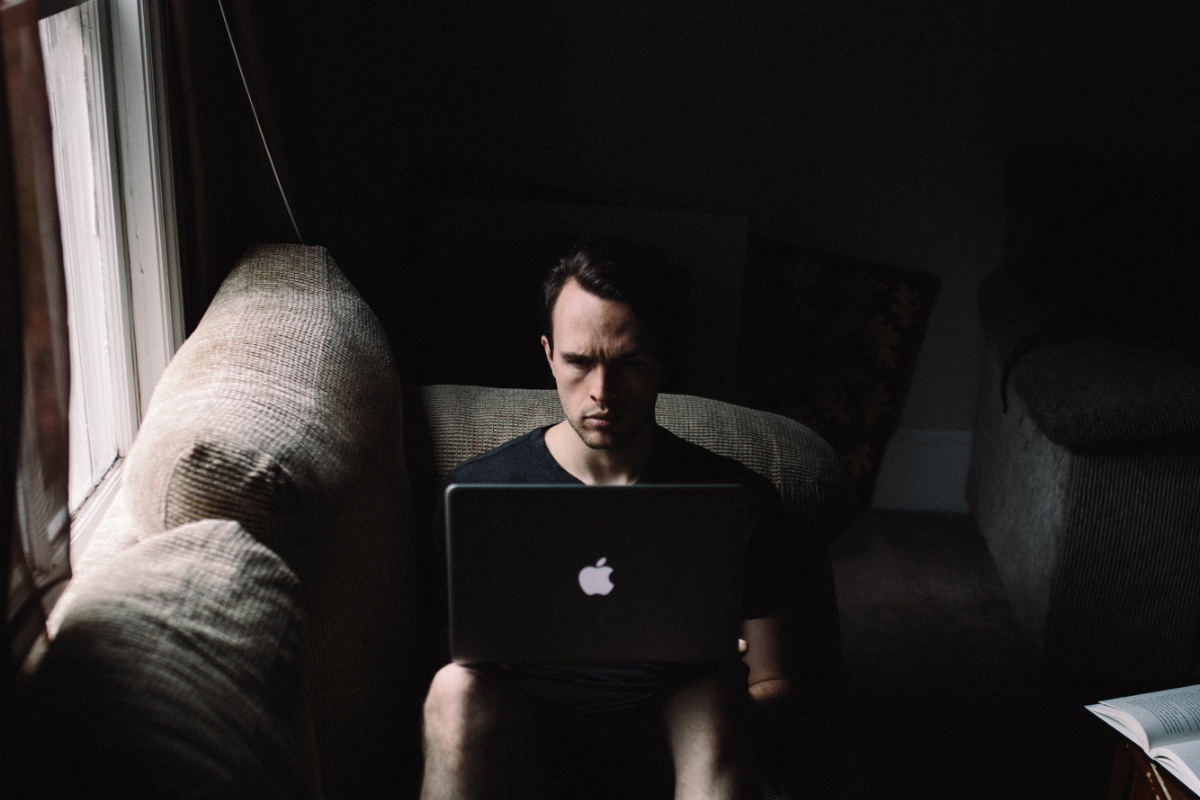 A frenzied young rabbi runs helter-skelter through holiday crowds. He upends tables, scatters gold and silver, and sends animals and humans fleeing in every direction. Those with sense run for the exits, not eager to find themselves on the business end of this mad Galilean's handmade whip (see John 2:15). Others, with more greed than sense, dive after loose coins and lost profits.
This episode must have made an impression on Jesus' disciples, as it's one of the few stories that made its way into all four Gospels. It is hands down, the wildest depiction of Jesus we have. Rather than "gentle Jesus, meek and mild," we're presented with "angry Jesus, zealous and wild." Here is a shockingly aggressive, courageous, passionate, intense Messiah. Paint his face blue and give him a Scottish accent, and any one of us might be inspired to follow him into battle.
This is angry Jesus.
And if Jesus can get angry, can I?
If we're honest, this whip-brandishing Jesus is the same Jesus we too easily invoke to justify our own anger. If there is such a thing as righteous indignation, most of our anger probably is justified, right? And if the Bible tells us to "be angry and do not sin" (Eph. 4:26, emphasis added) then maybe we've got a green light for our rage.
But the Scriptures don't give us leeway for such faulty logic. Consider, for example, the words of James: "Let every person be quick to hear, slow to speak, slow to anger; for the anger of man does not produce the righteousness of God" (Jas. 1:19-20).
James is speaking not of righteous anger, but the more common "anger of man," which is directed by human passions and desires (see Jas. 4:1-3).
Most of the anger we justify as "righteous"—the flare-ups and frustrations caused by petty annoyances or personal affronts—isn't righteous at all. Here are ten reasons why.
1. YOUR ANGER ISN'T RIGHTEOUS BECAUSE IT DOESN'T PRODUCE RIGHTEOUSNESS
"The anger of man does not produce the righteousness of God" (Jas. 1:20).
If human anger was a machine, no raw material fed into the front end could create an output of righteousness. No amount of tinkering, adjustment, or redesign would produce goodness. It's simply not the right kind of machine. Has your anger ever resulted in good things in your life?
2. YOUR ANGER ISN'T RIGHTEOUS BECAUSE IT'S ALL ABOUT YOU
Human anger may claim to be all about righteousness when, in reality, it's all about self. We reason something along these lines: Someone has sinned against me, and sin displeases God. I care about God's feelings and am commanded to imitate him. Therefore, my displeasure at this sin—really, my anger at this person—is justified.
This logic, natural as it seems, ultimately aims at preserving self rather than upholding God's glory. Sin displeases God primarily because it's an affront to his glory, yet I'm angry because someone has sinned against me. Sadly, I use God's glory to justify my own anger.
The common denominator of human anger is self-preservation. This is what it's for, thereby setting it against any threat to the self. Righteous anger, on the other hand, postures itself for the preservation of God's honor, and against any threats to it (including sin). The common denominator of righteous anger is the preservation of God's honor.
Twenty years of pastoral work has, at times, given me a front-row seat to the furious self-preservation that arises when a person's idols are threatened. The most common idol is the human ego. Thankfully, Christ frees us from our natural human tendency to protect ourselves:
"For the love of Christ controls us, because we have concluded this: that one has died for all, therefore all have died; and he died for all, that those who live might no longer live for themselves but for him who for their sake died and was raised" (2 Cor. 5:14-15).
Because we belong to him, we are freed from the burden of self-preservation.
3. YOUR ANGER ISN'T RIGHTEOUS BECAUSE IT FEEDS OFF ENMITY
Jesus said it most clearly: "You have heard that it was said, 'You shall love your neighbor and hate your enemy.' But I say to you, Love your enemies and pray for those who persecute you" (Matt. 5:43-44).
We often use "justified anger" to keep enemies in their proper place as enemies, and in the process fail to keep the love command. Jesus provides a relational reason for this most difficult of commands: "so that you may be sons of your Father who is in heaven" (Matt. 5:45a).
Children naturally tend to act like their parents, embodying family traits and living out family values. Our Father sets the family standard by loving those who hate him and transforming enemies into family members. As the ultimate peacemaker, he calls his children to imitate him: "Blessed are the peacemakers," Jesus says. Why? "For they shall be sons of God" (Matt. 5:9).
The Apostle Paul directs believers to "live peaceably with all" (Rom. 12:18), a mode of life that will naturally shrink one's circle of enemies. But when anger is given space to feed off enmity, it subverts peacemaking, stifles reconciliation, and kindles conflict.
4. YOUR ANGER ISN'T RIGHTEOUS BECAUSE IT CULTIVATES A CROP OF BITTERNESS
"Strive for peace with everyone … See to it that … no 'root of bitterness' springs up and causes trouble, and by it many become defiled" (Heb. 12:14,15).
The relational crop produced by anger includes bitterness, among other things. Righteous relational stewardship, on the other hand, severs anger at its roots, prevents bitterness, and nurtures peace.
5. YOUR ANGER ISN'T RIGHTEOUS BECAUSE IT TAKES JUSTICE INTO YOUR OWN HANDS
"Beloved, never avenge yourselves, but leave it to the wrath of God, for it is written, 'Vengeance is mine, I will repay' " (Rom. 12:19).
Human anger keeps records of offenses and takes responsibility for revenge. When an offense is mainly against me (rather than God), then I suppose justice lies within my power. I become the judge, putting myself in God's place, and arrogantly take justice into my own hands.
Human anger is a brand of unbelief—a failure to trust God to bring the justice he has promised. Faith, on the other hand, exchanges anger for trust and leaves justice where it belongs: in God's hands.
6. YOUR ANGER ISN'T RIGHTEOUS BECAUSE IT'S CONSUMING YOU 
"Do not be overcome with evil, but overcome evil with good" (Rom. 12:21).
Anger has an uncanny ability to overcome and control us, yet God would have us control it. Often our anger becomes all-consuming, dominating our emotions, our moods, our attitudes. It even affects our physical health, sleep, and productivity. Like a fire that rages out of control, anger running wild threatens to burn us up in the process.
7. YOUR ANGER ISN'T RIGHTEOUS BECAUSE IT'S BEEN GIVEN TIME TO FESTER
"Do not let the sun go down on your anger" (Eph. 4:26).
This verse does not clearly prohibit anger—it simply imposes a time limit. Paul recognizes the fallenness of human relationships, the daily temptation to anger, and the constant necessity of repentance. This is a call to reconciliation, not a blanket permission for unqualified rage during daylight hours.
And even if Paul does allow room for "righteous anger," he protects us from its fermentation. Human nature can easily turn even righteous indignation into sin. Therefore, we must not hold on to it for one moment longer than is necessary.
8. YOUR ANGER ISN'T RIGHTEOUS BECAUSE THE DEVIL BENEFITS FROM IT
"And give no opportunity to the devil" (Eph. 4:27).
Anger—especially when cultivated, nurtured, and allowed to fester—is the devil's playground. A murderer from the beginning, the devil loves anger and is keenly aware of its slippery slope. Unfettered anger plays into his hands, pays him homage, and furthers an agenda opposed to God.
9. YOUR ANGER ISN'T RIGHTEOUS BECAUSE IT'LL COME BACK TO BITE YOU 
"Everyone who is angry with his brother will be liable to judgment" (Matt. 5:22).
Jesus calls attention to the eternal consequences of anger. Not only does it affect us and those around us in the present, but its effects could remain with us forever. When we heap burning coals on our own heads, we're liable to carry the scars forever.
10. YOUR ANGER ISN'T RIGHTEOUS BECAUSE IT AVOIDS FORGIVENESS 
"But if you do not forgive others their trespasses, neither will your Father forgive your trespasses" (Matt. 6:15).
Human anger refuses to consider forgiveness as an option, but Jesus' words are clear: forgiveness unextended implies forgiveness unaccepted. The ultimate moral ugliness in the New Testament is a refusal to forgive.
But forgiveness is difficult. As Tim Keller writes, "When you forgive, that means you absorb the loss and the debt. You bear it yourself. All forgiveness, then, is costly."
We don't want to pay that debt. We are often unwilling to take on that cost because it feels like a loss for us.
In Christ, we have access to a forgiveness that absorbs our debt. Whereas my anger is for me at everyone else's expense, Christ's love is for me at his own expense. In him, we encounter a love that is completely for us. The one who has every right to be angry with sinners chooses to absorb his own anger. In the mysterious beauty of Christ's love, we are freed from the prison of our own anger and provided with the freedom and resources to forgive.
---
Mike Phay serves as Lead Pastor at FBC Prineville (Oregon) and as a Staff Writer at Gospel-Centered Discipleship. He has been married to Keri for over 20 years, and they have five amazing kids. You can follow him on Twitter (@mikephay) or check out his blog.