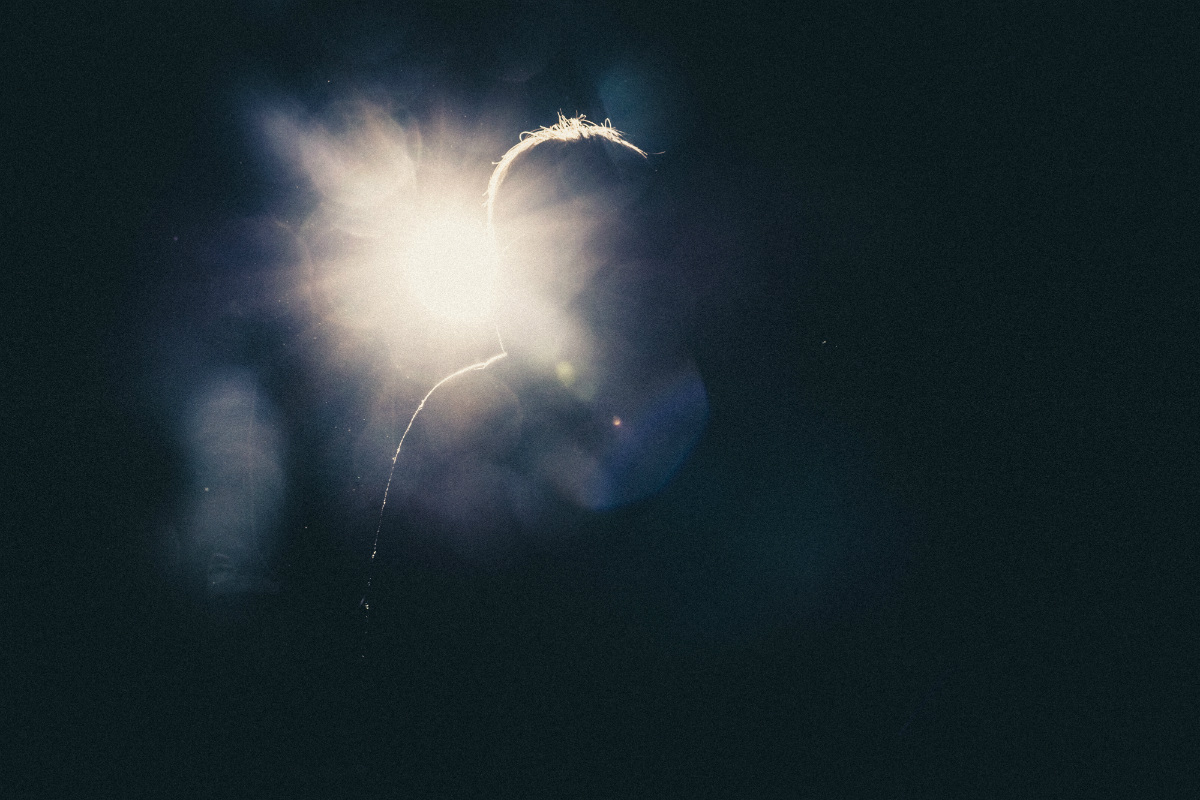 In J.R.R. Tolkien's classic The Lord of the Rings trilogy, a royal elf named Galadriel gives Frodo Baggins a splendid gift—light from the "beloved star" Earendil, captured within a small crystal that Frodo may use to light the way should he find himself in the dark. Without giving too much away, let's just say Galadriel's foresight turned out to be useful for a very sticky situation. The brilliance of the star of Earendil is fiction, but it gives us a glimpse of the true brilliance found in the Son of Man, the true radiance of the glory of Christ himself (Heb. 1:3). No light is purer for our path or brighter to our eyes than his unapproachable and marvelous light (1 Tim. 6:6; 1 Pet. 2:9).
This very light—stunningly—has been offered to us for our own journeys. "The true light . . . gives light to everyone" (John 1:9). But what is this light exactly? As David reflected on the gift of light for his Christian journey, he sings, "Your word is a lamp to my feet and a light to my path" (Ps. 119:105, emphasis mine).
It is incongruous that many believers can rehearse those very words from David by memory and yet live as if such a gift is unnecessary. The light has lost its luster in our eyes. We start to complain when troubles come our way. We ask God to give us a sign for which way to turn, but we haven't turned the lamp on. If his Word is our lamp and a light for the road, why do we always neglect to pack it for the trip?
We all know that obstacles on the path of life are inevitable realities. Perhaps you feel the weight of your own trials and troubles right now. You feel that all the lights have gone out. Where can you turn for guidance? Each of us needs God's Word if we have any hope of walking the road without stumbling or getting off-course.
HIDDEN LIGHT
Scripture memorization, or the practice of hiding God's Word in our hearts, is the premier way we are guided by the lamp and light. It is not simply God's Word with us, but in us. To read God's Word is good; to reflect on it is better; to pray it is better still. But to know and feel his Word is altogether best. When the Word takes root in our hearts and minds, the light becomes brighter along our paths and no darkness will be too great.
In his book Moonwalking With Einstein: The Art and Science of Remembering Everything, journalist Joshua Foer tells the story of his journey from covering the United States Memory Championship to him competing in—and winning—the event a year later. He trained his mind to suddenly be able to memorize the order of two shuffled decks of cards or recall hundreds of random faces paired with random names, all within a few short minutes.
But in a book full of insight on memorization, it is Foer's off-hand remark about halfway through that struck me: "In a tight spot, where could one look for guidance about how to act, if not the depths of memory?"
Foer's book was not meant to be an exercise in spiritual disciplines, but the implications for Scripture memorization are obvious. Just as we all memorize the layout of our bedrooms and bathrooms enough to be able to navigate them safely in the dark morning hours, so we have also been invited to know God's Word in the midst of dark times. In our trials, it is not the visible light that counts so much as the "hidden light" within us. God's Word helps us navigate life when the path ahead is dimly lit.
JUST DO IT
I know what you are thinking at this point. The idea of Scripture memorization sounds like a nice idea, but you already have written it off. You may see the value in all of these challenges to hide God's Word in your heart, but still think it beyond your ability. You explain your own need for Bible memorization away, saying it is not in your spiritual gift mix.
But have you really tried it?
Most of us, sadly, have not. We assume Bible memorization requires an intellectual capacity beyond what God has given us. That would be awfully cruel of God, to command us in his Word to prioritize grasping his Word in our heart and not give us the tools we need to do so. I don't believe this is the case. The level of access to tools that help us hide God's Word in our heart is truly amazing; we simply have to want it enough. We just have to do it.
THE BENEFITS OF MEMORIZATION
If we will do the work of storing up God's light, the benefits are manifold. There are three ways worth dwelling on that the brilliance of the Word of God hidden in the heart helps us in our trials, temptations, and troubles of life.
First, God's Word stored in our hearts equips us in the fight against sin. There is no greater example of the benefits of memorization than the life of David. David, a man known for zig-zagging along the road of righteous living, was a master sinner (just like you and I). He was a master deceiver of his own heart. But in David's best moments, the Spirit compelled and helped David store up God's Word as he fought the sin in his life (Ps. 119:11). Temptation often demands a quick, reactionary decision from us. In these moments, will we live by the flesh or by the Spirit? Will we pursue wickedness or righteousness? As we become memorizers of Scripture, it becomes easier to hang in the tension of temptation, to feed the truths of Scripture to our mind and heart, and to help us make an informed, thought-out decision to flee temptation and pursue righteousness (2 Tim. 2:22).
Second, God's Word stored in our hearts encourages us when prayers go unanswered. Don't believe the charlatan preachers that tell you God will answer all of your prayers as you want him to. If you've lived long enough, you know that some prayers go unanswered, or you get the answer you did not expect. These are hard moments in the Christian life. But God's Word being in our hearts readily brings to mind His promises to us, which are rich in every respect. Perhaps you are praying against a particular suffering in your life, and it does not seem to be going away. Bringing God's promise to mind in Romans 8:18, "For I consider that the sufferings of this present time are not worth comparing with the glory that is to be revealed to us" may not bring immediate relief, but it does bring eternal comfort. Sometimes, in these dark places, we have to "preach the gospel to ourselves," as Jerry Bridges often said.
Third, God's Word stored in our hearts keeps families afloat. I have written about the benefits of memorizing catechisms and creeds in the home, which are certainly helpful. But this should never replace or supersede the memorization of Scripture. I believe that a family's effort to memorize Scripture together is one of the simplest and most beautiful methods of family discipleship we can participate in. When a family walks through a difficult season together, how encouraging it would be for parents to remind their children of the verses they need to hear (or children remind their parents!) in those moments. A family that speaks God's Word to one another continually is God's vision for the home (Deut. 6:6-9).
Finally, God's Word stored in our hearts brings vigor to our soul. On many occasions, the Psalms link the practice of Bible memorization with spiritual vitality (Ps. 1:2; 40:8; 119:16, 52, 129). We spend a lot of time as Christians talking about the pursuit of glorifying God in our lives, yet that doesn't often materialize in our day-to-day activities. Making Scripture memorization a routine part of our Christian life can certainly change that. Hiding God's Word in our heart will only deepen our affection for his Word and create a thirst in us to know him better, indeed, "equipped for every good work" (2 Tim. 3:17).
May Scripture be a light to you in dark places, when all other lights go out.
---
Zach Barnhart currently serves as Student Pastor of Northlake Church in Lago Vista, TX. He holds a Bachelor of Science from Middle Tennessee State University and is currently studying at Midwestern Baptist Theological Seminary, seeking a Master of Theological Studies degree. He is married to his wife, Hannah. You can follow Zach on Twitter @zachbarnhart or check out his personal blog, Cultivated.