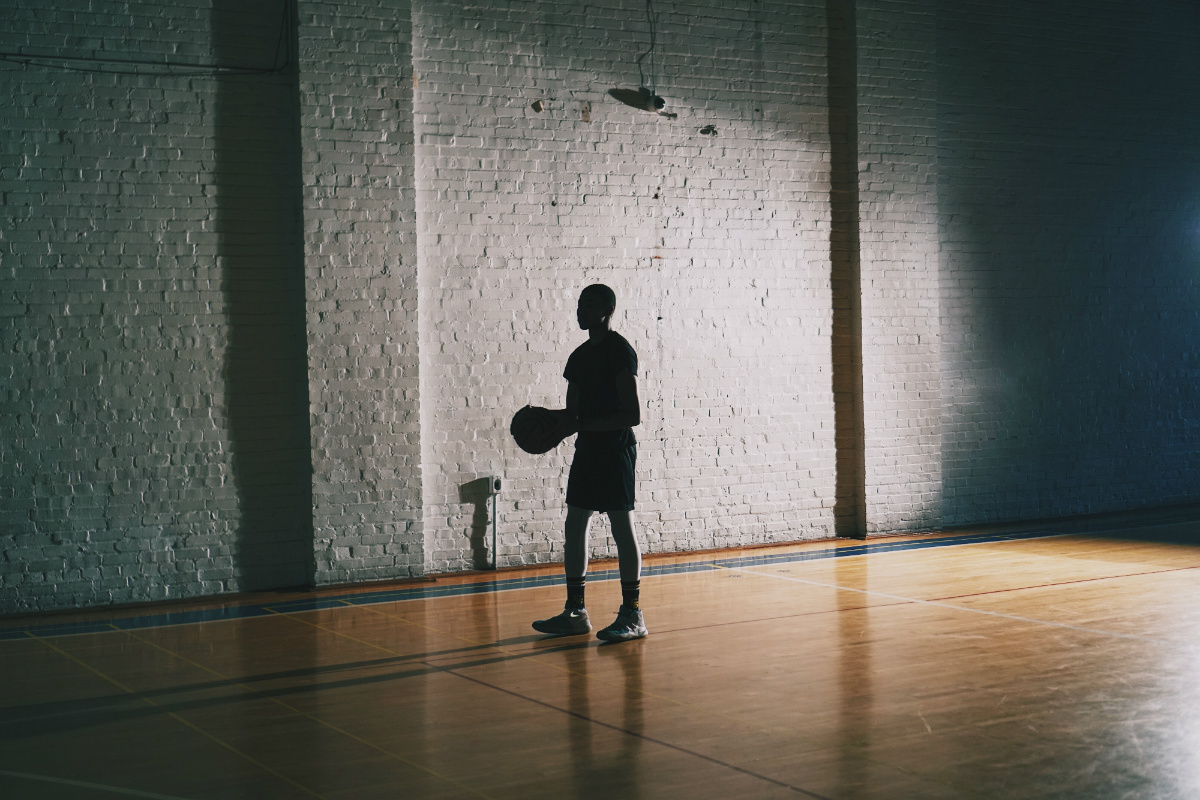 March Madness is upon us. My husband spends hours teaching our boys the art of bracketology. My boys' work ethic displayed through perfecting their brackets is inspiring. Why can't they apply this passion to their geometry homework? As a mother of four sons, I've resigned myself to the fact that any plans I had to engage in a non-basketball-related conversation have been rescheduled for April. During this time of year, my house is overrun with cheering, shouting, and surprises. Whoever decided to call the NCAA Tournament season March Madness rightly understood its effect on basketball fans.
With my free time this March, I'm wondering about madness as it relates to faith. Madness can be defined as, "extremely foolish behavior." Usually, that's not a good thing, but March turns that expectation on its head. (And sometimes that madness turns the bowl of Doritos on the floor after a buzzer-beater—but that's another matter.)
We accept the cultural norm of going a little crazy over basketball, or any sport really, but forget to be enthusiastic about the kingdom of God. Imagine the kingdom-impact of millions of zealous people united in Christ to advance the gospel.
The end of March presents an opportunity for sports enthusiasts to go a little mad. Every day presents an opportunity for the church to be known for our madness for the Lord.
MISSIONS MADNESS
According to Joshua Project, of the almost 7.5 billion people in the world, only about ten percent claim to be evangelical Christians. Three billion live among unreached people groups. Ninety percent of the world is lost, and many of them live in countries hostile to the gospel. What does this mean for the church? It means we need more madness for evangelism.
We have been entrusted with the most significant mission of all time. We are commissioned to make disciples of all nations (Matt. 28:19). We are gospel-advancers; the gospel doesn't advance when we retreat. We must go.
We must reject the assumption that someone else will go. Why not us? We need to embrace the unfamiliar for the sake of the gospel. We may need to abandon the comforts of our current zip code so others may know an eternal home in heaven.
We can't be casual about advancing the gospel. We must passionately combat the darkness with the light. We must get a little crazy about evangelism.
DISCIPLE-MAKING MADNESS
Making disciples starts with making converts, but it doesn't end there. It continues with the work of discipleship—teaching followers of Christ how to obey his Word (Matt. 28:20).
Particularly in America, we've bought into an individualistic theology. I stay out of your business and you stay out of mine. We have compartmentalized our faith to the point that it serves as mere window-dressing to our lives. However, obedience to God's command to make disciples requires us to be fully invested in one another. We must come alongside each other, helping one another understand what it means to follow Christ.
We depend on one another to point out blind spots, to hold us accountable, to instruct us in the Word, to champion us in our pilgrimage. We must reject the temptation to isolate ourselves from the Christian community. We must seek out spiritual siblings to walk with, discipling one another as we go. We harm each other when we let sin go unchecked in our lives. As believers, we are our brother's keeper.
Our younger siblings in the faith are counting on us to teach them how to be mad for Christ. In the same way a junior on the team can help a rookie get up to speed with how things work on and off the court, how we lead those younger in the faith than us matters. We need passionate teachers. We need to get a little crazy about discipleship.
WORSHIP MADNESS
We advance the gospel and make disciples because our God is worthy of the worship of the nations. "Let everything that has breath praise the Lord. Praise the Lord" (Ps. 150:6).
One of my favorite things about my local church is our celebration of the gospel through baptism. New believers share their story of deliverance from the domain of darkness into the kingdom of Christ (Col. 1:13). One of our elders immerses them in water. They rise from the water to thundering applause.
I'm not talking about a polite clap. We shout. We hoot and holler. We whistle. We cry. We celebrate the expansion of the kingdom of Christ and the destruction of our enemy. It gets a little crazy.
Scripture offers a great example of a man whose celebration of the Lord looked a little mad. As the ark of the covenant was brought to Jerusalem, David "danced before the Lord with all his might" (2 Sam. 6:14). When he was confronted by his wife about his embarrassing behavior, his response was, "I will celebrate before the Lord. I will become even more undignified than this" (2 Sam. 6:21-22).
"Great is the Lord and greatly to be praised, and his greatness is unsearchable" (Ps. 145:3). Our God is awesome and worthy of praise. Let's go a little crazy in our worship.
GOSPEL-CENTERED MADNESS
Imagine a world where every follower of Christ displayed signs of madness for our King. What if we, like Paul, could describe ourselves as, "fools for Christ's sake" (1 Cor. 4:10)?
If you think a sixteen-seed beating a one-seed team is wild, imagine telling your friends and extended family that you're moving to Bangladesh to plant a church.
Imagine a small group inviting local refugees into their weekly gatherings to help them transition into our culture and expose them to kingdom-culture. Imagine a people whose free time wasn't spent on Netflix but in prayer.
Imagine teenagers more concerned with their friends knowing the Lord than knowing the latest app. Imagine college graduates taking their skills to the 10/40 window to live as missionaries. Imagine older saints who understood that retirement doesn't apply to kingdom work. 
Imagine local churches concerned with building God's kingdom and not their own buildings. Imagine small groups that heard words of confession and petition instead of gossip.
Imagine families that invite new neighbors over to share more than just lasagna—to share the life-giving bread of the gospel. Imagine parents that train their children to be faithful witnesses, not just committed soccer players.
Imagine being the people who forego the feast of our day to fast for the nations to know the gospel.
ARE YOU MAD FOR THE LORD?
The world watches us get excited over many things—sports, politics, food, entertainment. How often do they see us get excited about the kingdom of God?
When was the last time you were foolish for Christ? How long has it been since you engaged in disciple-making? Let's not fool ourselves. Disciples make disciples. God is glorified when we are foolish for his sake, not when we are just fools.
I'll probably get caught up in the excitement of upsets and buzzer-beating three-pointers as my guys enjoy watching basketball over the next few days. But my prayer is that my life will display madness for the gospel, zeal for the church, and foolishness for the name of Christ.
Our zeal for the kingdom should be evident to all. We don't need to hide our excitement; we need to embrace it, flaunt it. March proves we have a capacity for craziness. Let's redirect that capacity and apply it to advancing the kingdom of God. 
---
Christy Britton is a wife, homeschool mom of four biological sons, and soon-to-be mom of an adopted Ugandan daughter. She is an orphan advocate for 127 Worldwide. She and her husband are covenant members at Imago Dei Church in Raleigh, NC. She loves reading, discipleship, Cajun food, spending time in Africa, hospitality, and LSU football. She writes for several blogs, including her own, www.beneedywell.com.