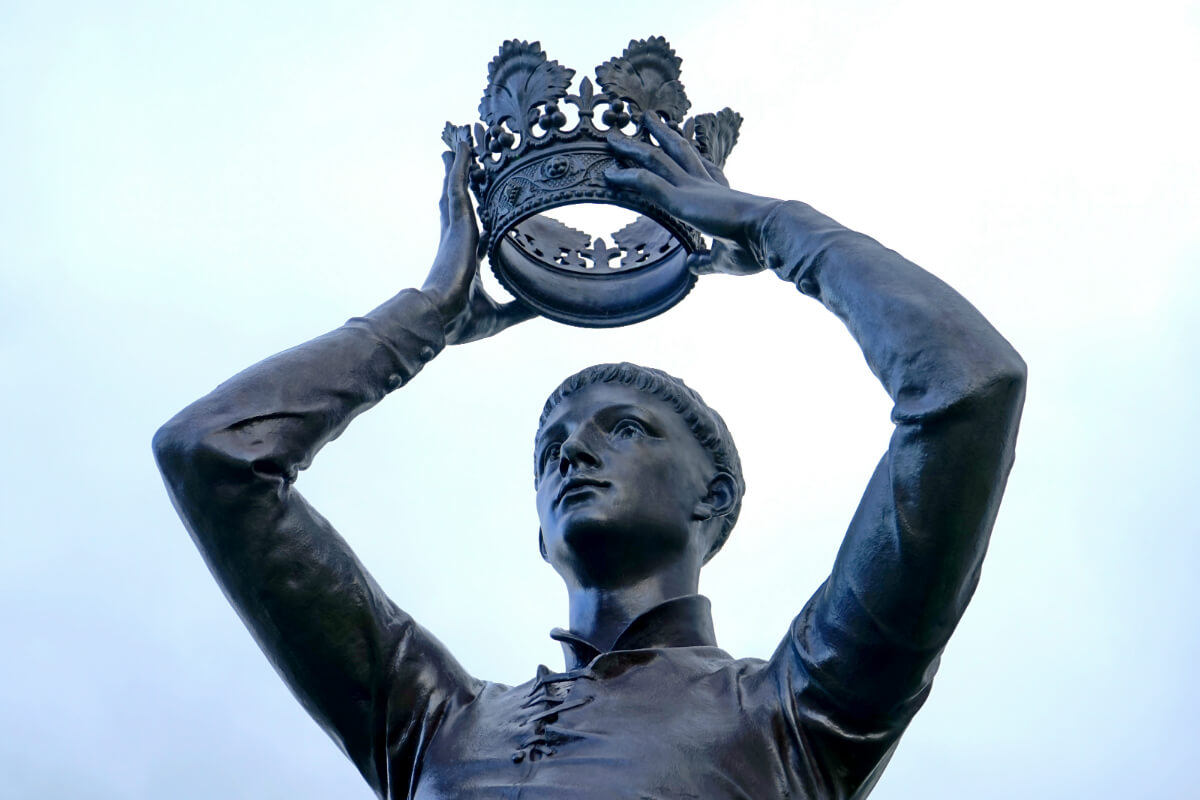 I memorized a prayer I'm afraid to speak aloud. It calls for mutiny against myself. It goes like this: "Your kingdom come, your will be done, on earth as it is in heaven" (Matt. 6:10).
Paul David Tripp writes, "'Your kingdom come' is a dangerous prayer, for it means the death of your sovereignty."
Not being in control is terrifying to our sinful flesh. We want what we want when we want it, how we want it, where we want it. We want the right house in the right neighborhood next to the right school.
But for believers, a tension exists between our flesh and the Spirit inside us. The Spirit desires God's kingdom on earth as it is in heaven, while our flesh seeks to establish our own kingdom and sovereignty.
We are to be imitators of Christ, who demonstrated perfectly how to lay aside his own will and desire the will of his Father.
THE KINGDOM OF ME
Our kingdoms reflect us. They represent our thoughts, desires, and values. If you need help identifying your kingdom, look at your bank account, your conversations, your thoughts, your activities. After your bills are paid, where do you spend money? When you lie in bed, what thoughts dominate your mind? What do you do in your spare time?
Our kingdoms exist to serve us. We rule our kingdoms and demand everyone else bow to our needs, wants, and desires. In my kingdom, comfort is foundational. I don't want to be too hot or too cold. I like soft and stretchy clothes. I want foods to fit my moods. My kingdom has few problems, little criticism, and more resources than I need. I've convinced myself I could happily live in this safe and comfortable environment forever.
My kingdom exists to serve my desire for safety, comfort, and happiness. I'm the queen of my kingdom, and it's easy to control. I spend my days ensuring the comfort I crave.
Despite the energy I put into building my kingdom, it has a fatal flaw: it doesn't satisfy. It never could, because my own pursuits are not meant to satisfy me.
I was created for a different kingdom—a better kingdom—one beyond my control. A kingdom where I'm a servant and not a queen.
THE KINGDOM OF GOD
God's kingdom reflects what he desires and values. It exists to bring him glory. In this kingdom, he is sovereign over all. In this kingdom, he is Lord.
The kingdom of God reveals his sovereignty over the redemption of man; it is for those who do his will (see Matt. 7:21). Glimpses of God's kingdom are shown as all things are being made new, as we are restored to him and to each other.
God's kingdom in heaven exists without death, crying, and pain (Rev. 21:4). His kingdom is filled with people from every tribe, tongue, and nation (Rev. 7:9). The curse is gone in God's kingdom—there is no sin, poverty, sickness, or injustice (Rev. 22:3).
The kingdom of God will satisfy because it will bring God glory, which is what we were created to do. When we fulfill our purpose, we find our satisfaction. John Piper says, "God is most glorified in us when we are most satisfied in him." I wasn't created to do my will; I was created to bring God glory by doing his will (John 6:38).
GIVING UP MY KINGDOM FOR GOD'S
I like my safe, comfortable, controllable kingdom. Since I'm the queen, it feels like I'm in charge. But truthfully, I'm no monarch. I'm a fool settling for temporary comfort when eternal riches and security are offered.
C.S. Lewis writes in The Weight of Glory,
"It would seem that our Lord finds our desires not too strong, but too weak. We are half-hearted creatures, fooling about with drink and sex and ambition when infinite joy is offered us, like an ignorant child who wants to go on making mud pies in a slum because he cannot imagine what is meant by the offer of a holiday at the sea. We are far too easily pleased."
My flesh wants to build my kingdom on earth. But God has liberated me from bondage to my flesh (Rom. 6:18), and in freedom, I can choose to lay down my will for his. By his grace, I desire to give up my kingdom for his. Jim Elliot said, "He is no fool who gives what he cannot keep to gain what he cannot lose."
The Christian's life includes a call to deny self (Matt. 16:24), but our sin keeps us focused on the present. Jonathan Edwards prayed, "Lord, stamp eternity on my eyeballs." We would be wise to desire a kingdom mindset with eternity in view.
YOUR KINGDOM COME
His kingdom is in heaven, but it's not yet on earth. That's why we pray, "Your kingdom come." John Piper says, "We should pray that every day. Bring the kingdom, Lord. It's not here the way we want it to be. Bring your kingdom. Bring your reign fully in people's lives, in my life, in the world."
God is bringing his kingdom to earth through his people. As his children reflect his image, the world will see Christ's rule. When we, like Christ, say, "Not my will, but yours, be done (Luke 22:42)," the kingdom of heaven is made visible.
Church, we need to pray boldly, "Your kingdom come, your will be done." We must die to ourselves. Let's seek the destruction of our kingdoms as we realize his and live for his glory (Matt. 6:33).
God's kingdom is coming. He will rule fully on earth as he does in heaven. And those who destroy their kingdoms to seek his will reign with him forever (Rev. 22:5).
---
Christy Britton is a wife, homeschool mom of four biological sons, and soon-to-be mom of an adopted Ugandan daughter. She is an orphan advocate for 127 Worldwide. Her family is covenant members at Imago Dei Church in Raleigh, N.C. She loves reading, discipleship, spending time in Africa, hospitality, and LSU football. She writes for various blogs including her own, beneedywell.com.