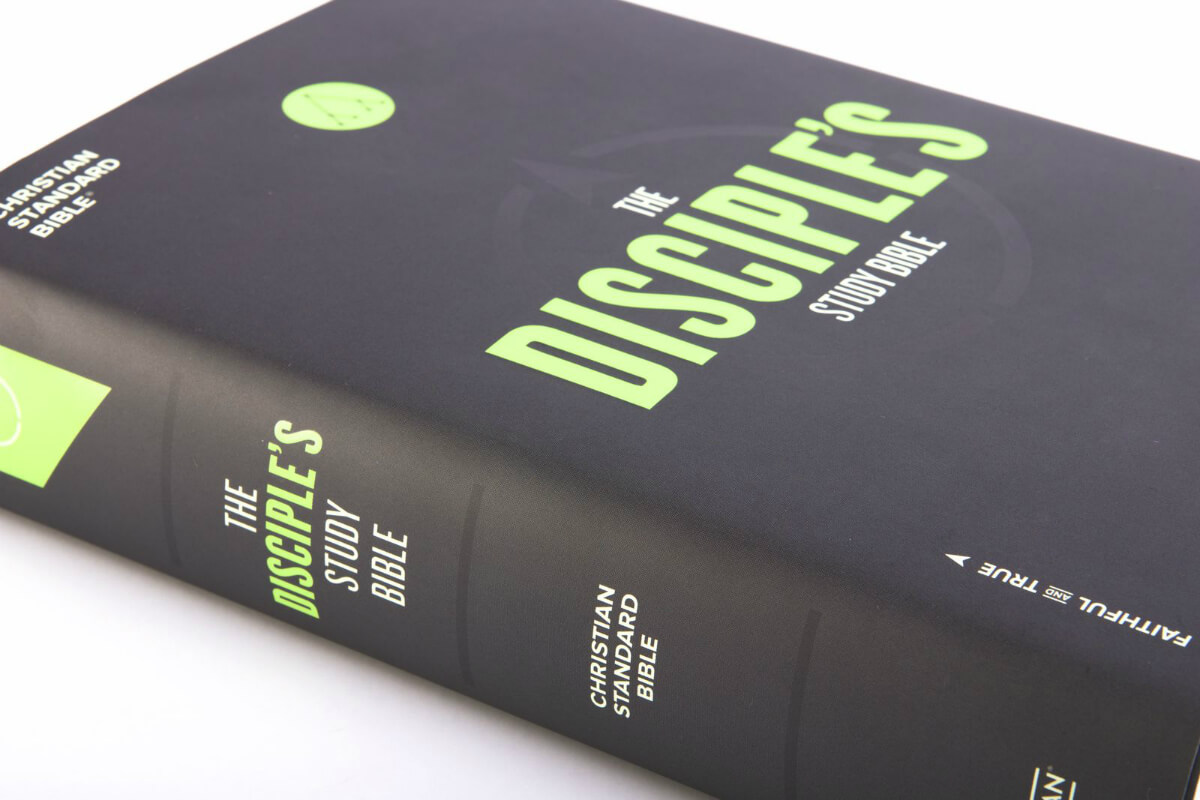 I had a radical conversion experience in the summer of 2002. Boy, was I jazzed about Jesus. I couldn't wait to tell everyone the news—I was a Jesus-follower now! The problem was, outside of my salvation experience, I didn't know much about Jesus or what it meant to be his disciple. To that point in my life, I knew more about following Rachel from Friends than Jesus of Nazareth. I didn't need a little "tweaking" after conversion—I needed a whole new worldview. So I set out to rebuild my life from scratch, which was incredibly overwhelming.
Today, fifteen years later, I've grown a lot as a disciple (of Jesus that is, not Rachel Green). Yet I've often wished there had been a single resource handed to me after conversion to jumpstart my discipleship journey. This resource would be a simple guide on how to read, interpret, and apply the Bible, how to understand my story in light of God's big story, and how to live out the habits of grace.
If only . . .
ENTER THE CSB DISCIPLE'S STUDY BIBLE
With the new CSB Disciple's Study Bible, my hopes have come to fruition. This is a study Bible I'd happily hand to newly converted, "jazzed-for-Jesus-but-have-no-idea-what-it-means-to-be-a-disciple" Whitney.
Published by Holman Bible Publishers in 2017, the Disciple's Study Bible is a one-stop shop for all things discipleship. It takes a fresh, reliable translation and pairs it with a wealth of discipleship resources to guide you on your discipleship journey, as well as equipping you with tools to disciple others.
Whether you're a new believer who wants to rebuild your worldview or a mature Christian who actively disciples others, this Bible should be on your bookshelf. Here are six reasons why.
6 REASONS WHY YOU SHOULD GET THE CSB DISCIPLE'S STUDY BIBLE
1. Faithful Bible Translation
The basis for a good study Bible has to be a clear, faithful translation of the text. No amount of resources, marketing, or cool graphics can (or should!) replace the text itself. The Disciple's Study Bible features the Christian Standard Bible (CSB), a highly reliable and readable translation developed by 100+ scholars and published by Holman Bible Publishers. It uses optimal equivalence as its translation philosophy, translating the original text word-for-word when its meaning is clear, but opting for a more dynamic translation when meaning might be obscured for modern readers. It blends fidelity to the original text with readability for a modern world, making it an excellent translation choice for new and maturing disciples.
2. Achievable Reading Plan
Once you have a good translation, you need a plan to read it. There are fantastic reading plans available, but not everyone knows this. I didn't. The beauty of the Disciple's Study Bible is that a reading plan is built into the Bible itself, taking out any guesswork for new or busy readers. The Foundations 260 (or F260) Plan walks you through the big story of the Bible in 260 days worth of reading rather than covering every chapter of the Bible, lest you fall behind, get discouraged, and give up. It's like a "best of" highlights reel that hits all the major points of redemptive history, giving you a sense of God's redemptive narrative and where/how you fit into that storyline. This achievable "big picture" plan is perfect for new believers seeking to be shaped by God's story instead of their past stories.
3. Simple Interpretative Method
This is my favorite piece. For every assigned reading, there's a corresponding H.E.A.R. section that walks you through basic interpretive questions (e.g., who was the book originally written to, how does the text fit with the verses before and after it, what does it mean, in what ways does it call you to action, etc.). You highlight the verses that speak to you, explain what the passage means, apply what God's saying, respond to what you've read, and—poof!—you've just done Bible interpretation without stressing over words like "hermeneutics." The H.E.A.R. method teaches solid interpretative habits that will serve you well for the rest of your life. I didn't learn this stuff until I went to Bible school; now, you can access it now in your personal devotions.
4. Accessible Book Introductions
Each book of the Bible features a short, accessible introduction; no academic or biblical background necessary. The introductions provide the circumstances of writing, contribution to the Bible, structure, and outline in a page or so. It also features a timeline for each book, placing the redemptive-historical events (boldface black print) within contemporary world events at the time (light gray print). It's enough to get your bearings before you jump in, but not so much that you lose yourself in scholarly debates about Pauline authorship or the age of the earth. That stuff is important and fascinating to me now, but it would have turned me off as a new believer, undermining the whole purpose of getting into the Word.
5. Solid Study Notes
The study notes are arranged by key doctrines of the Christian faith. As you read commentary on a passage, you'll encounter categories like creation, revelation, sin, evil, and salvation, thus offering you categories, or "buckets," into which you can put your new biblical insight. These study notes also familiarize you with historic Christian beliefs and begin exposing you to systematic theology, an important discipline for all Christians. Don't worry though, it doesn't read like a stiff textbook. The emphasis is on discipleship and personal transformation. Additionally, the study notes make some of the key Christ-centered connections between the Old and New Testaments, showing how the Scriptures are all about Jesus. It comments on common messianic passages like Isaiah 53 and Ezekiel 36, but also on more obscure passages like Job 9:2.
6. Discipleship-Themed Articles
At the end, you'll encounter a load of discipleship-themed resources from the team at Replicate Ministries, led by Robby Gallaty. These articles cover everything from how to pray and evangelize to how to establish a D-group (discipleship group). Of course, there are varying names for Christian practices like spiritual disciplines and small groups, but the core idea is the same—we want to make, mature, and multiply disciples of Jesus. These articles can help you towards that end. If you want to know more about Bible interpretation, turn to page 2034. If you need help sharing your story, turn to page 2041. If you're considering starting a discipleship group, check out the article on page 2046. Even if you disagree on finer points in the articles, they're a great resource to get you moving towards a life of discipleship. Again, I would have loved to have this in my hands right after conversion.
IS THIS BIBLE ONLY FOR NEW BELIEVERS?
The CSB Disciple's Study Bible is great for new believers, but it's also a fantastic resource for believers at every stage of the Christian life. I'm (obviously) excited about the value it has for new believers because I longed for something like this when I got saved. But don't let my personal passion mislead you. If you want to grow as a disciple of Jesus, then this Bible is for you.
You could use it as your primary devotional Bible with the built-in reading plan, journaling, and memory work. It could also work well in small group settings; the H.E.A.R. method offers easy steps and questions everyone can follow. Some churches are even using it as a whole-church initiative to read the Word together and talk about it throughout the week. You've got options! It really is a full-orbed discipleship Bible.
Personally, I'll be using it in the future as my "go-to" resource when I walk a new believer through the Bible. Just as I use different translations for different kinds of study, I find great value in having various study Bibles on hand for specific purposes. And, after reading and reviewing it, the CSB Disciple's Study Bible just became my discipleship Bible.
WIN A FREE COPY
Our friends at LifeWay are generously giving away 5 free copies of the CSB Disciple's Study Bible. The giveaway will close next Wednesday, January 31 at 12:00 midnight EST. Winners will be contacted via email by Saturday, January 26, 2018. Enter below for your chance to win.
---
Whitney Woollard is a writer, speaker, and Bible teacher. She serves as a staff writer at Gospel-Centered Discipleship and contributes to various ministries, including YouVersion, 9Marks, and the Bible Project. She holds her M.A. in biblical and theological studies from Western Seminary and loves sharing her passion for the Word with others. She has been married to Neal for over ten years and together they serve Jesus at Hinson Baptist Church in Portland, Oregon. You can contact her at whitneywoollard.com.