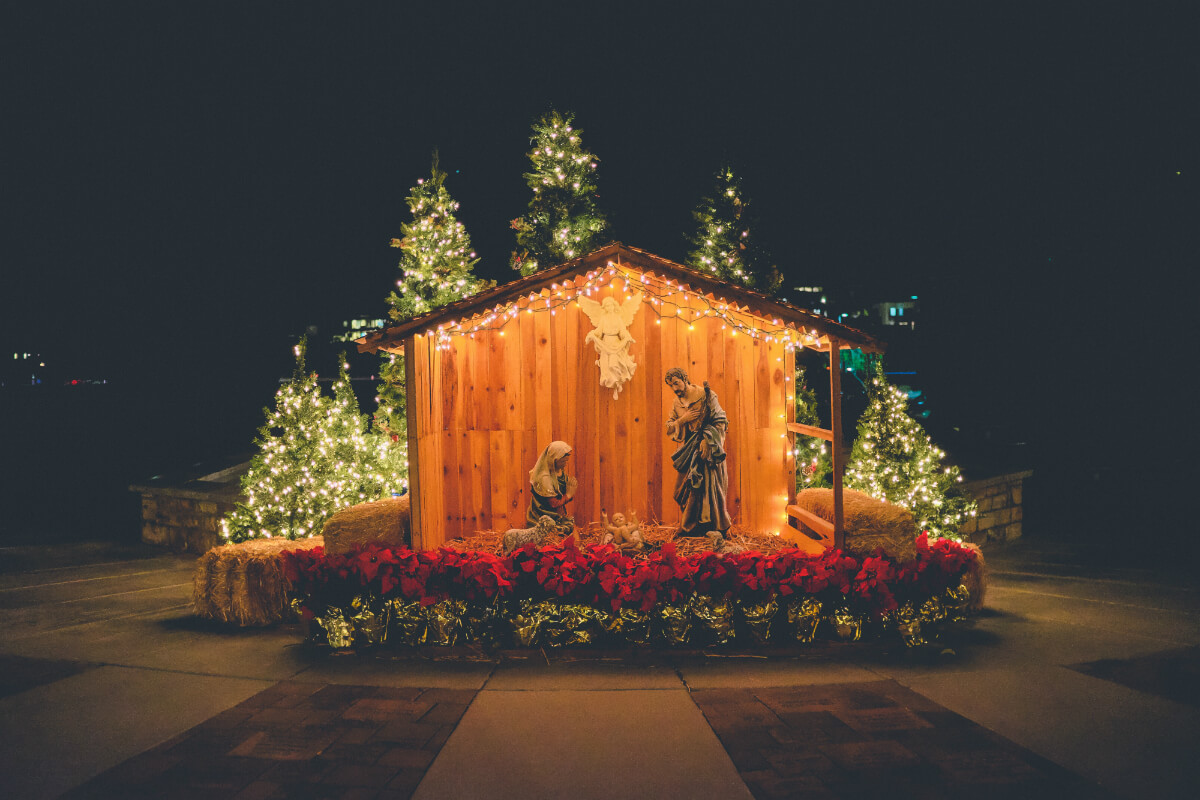 "Yes," said Queen Lucy. "In our world too, a stable once had something inside it that was bigger than our whole world."
These words from Narnian adventurer Lucy Pevensie in C.S. Lewis' The Last Battle articulate well the irony and majesty of the Incarnation of Jesus Christ. Only the wisdom of the Creator and Lord of the universe could turn our notions of normal on their ear in such a profound way, revealing to us a manger whose "inside is bigger than its outside." It seems he delights in astounding his creatures with his infinite ability to exceed and confound their expectations.
No doubt the news of Christ's birth came as a jaw-dropping, thrill-inducing revelation to those shepherds so long ago: "For unto you is born this day in the city of David a Savior, who is Christ the Lord" (Luke 2:11). The very God whom Solomon had described as uncontainable, even by the heavens, confined himself to the womb of a woman? How could it be?
But, while the physical wonder of what God accomplished in the Incarnation is colossal in its display of power and wisdom, that is not even the point of the angel's announcement to the shepherds—it is simply the paper on which an even more marvelous proclamation is embossed forever.
UNTO YOU IS BORN
If I put myself in the sandals of the shepherds, I cannot help but notice that there is a special message, a stunning declaration embedded in this announcement. It is "unto me" that a Savior has been born! Unto me? Surely there must be some mistake. Why would God go through all that trouble just for me? Surely there is some greater person for whom this announcement is meant. Did the angel take a wrong turn on his way to the king's palace or the temple in Jerusalem?
I'm a nobody. How could this historic pronouncement be meant for me? Yet there the light is, and now the whole choir of angels is singing. It must be true!
And, indeed, it is true. For our sake, not only does the God of the universe wield kingdoms, topple obstacles, and overcome adversaries—he sacrifices his very best, his very dearest. God sent his only begotten Son into the world to die for little, unimportant, who's-ever-heard-of-them individuals. As a result, whosoever believes in him will not perish but will have everlasting life.
It is "unto you" that a Savior was sent, that a baby was born, that the Christ was crucified.
A SAVIOR WHO IS CHRIST THE LORD
When most of us see a manger scene, our response to the reminder of what God became for us is limited to a placid, "Oh, isn't the little baby Jesus sweet! How precious that Jesus was once an infant, so weak and helpless." While it is appropriate to marvel at the smallness of the parcel into which God packed our Redeemer, let us not get the wrong idea about this child. He is Lord.
Paul tells us in Colossians 1:17 that Jesus Christ, the Son of God, was "before all things," and in him "all things hold together." One of the greatest wonders of the Incarnation is that somehow the very baby that Mary held was at the same time holding her together, along with the rest of the universe.
The hand that rocks this cradle doesn't rule the world—but the baby in the cradle does! The little finger that held hers was also holding the Roman Empire, guiding the Arctic Tern in its migration from Africa to Antarctica, and keeping Mars in its orbit around the Sun.
Just because Jesus became an infant human doesn't mean he ever gave up being Lord. This is the clear implication of the angel's announcement: "unto you is born a Savior, who is Christ the Lord." Jesus Christ—the Alpha and Omega, the same yesterday and today and forever—ruled and sustained the universe from his cradle. No wonder the magi who would later come to see him would fall down and worship him—they knew they were in the presence of the Majesty, even when he was cloaked in familiarity.
LYING IN A MANGER
If we pretend we have never heard the story of the Incarnation, doubtless this is among the most shocking statements in all of the Bible. The fact that angels would herald the birth of the God-man is no great surprise—surely he deserved that and more. That others would come to worship him is also to be expected—certainly, the Christ is worthy and demanding of such reverence. But here is the rest of the royal birth announcement: "you will find the baby"—where?—"lying in a cattle trough" (Luke 2:12).
A cattle trough? As if the humiliation of becoming human and living among sinners was not enough! Surely he deserves to be born into one of the palaces he has sustained, or even just a nice, middle-class apartment.
But no. The Son of God was born into the world and had only a trough for his cradle.
MARVELLOUS CONDESCENSION
What marvelous condescension we see in Christmas! Condescension to come at all, condescension to become a human, and condescension to live his life in abject poverty and rejection. Surely such a Savior is to be praised; such a Christ is to be followed.
How can we who take his name on ourselves as Christians and expect a life of lavender and rose petals? Surely to follow this Lord means following him in all his glorious and voluntary humiliation, suffering, and sacrifice for the glory of God.
The shepherds who heard the angels' doxology responded by saying to one another, "Let us go … and see this thing that has happened, which the Lord has made known to us." What is your response? Do you want to look further into this matter of God becoming a man? Is your appetite whetted for more of this exalted Lord who humiliates himself for our sake?
Let's hurry into his presence and beg for a greater glimpse of him this Christmas season.
---
Justin Huffman has pastored in the States for over 15 years, authored the "Daily Devotion" app (iTunes/Android) which now has over half a million downloads, and recently published a book with Day One: Grow: the Command to Ever-Expanding Joy. He has also written articles for For the Church, Servants of Grace, and Fathom Magazine. He blogs at justinhuffman.org.