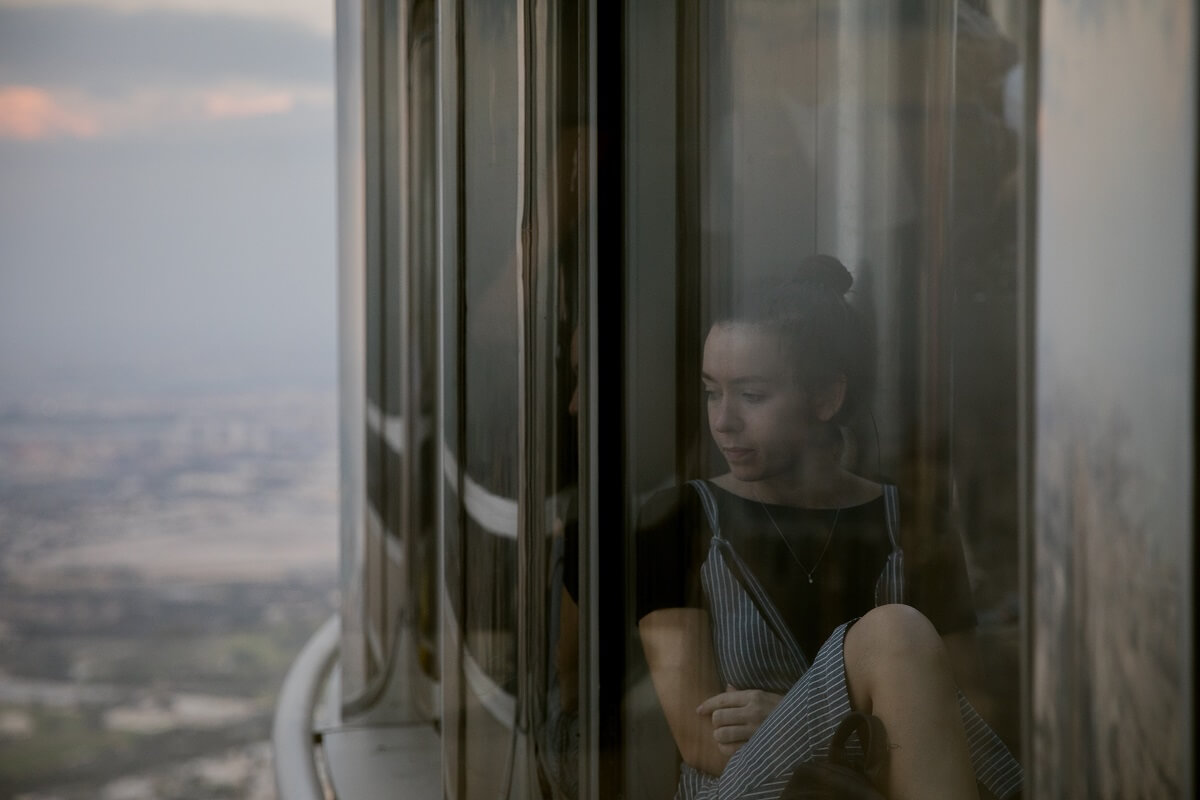 In the fall of 2013, I was visiting a local park with my four-year-old and two-year-old in tow when I saw a mom with a newborn baby and felt a sudden, overwhelming relief that I was "over" that baby phase. Earlier that summer, I had come to an emphatic decision that we would not have any more children. Being a notoriously open-ended person, this was a rare, clear decision. Little did I know, I would become pregnant within the month.
A BABY
To say I cried about my pregnancy is an understatement. It took months of processing with friends to even come around to the idea that having another baby could be a good thing. It sounded like terribly tedious work. And though it might seem obvious that this was God's calling for me, I couldn't quite accept it.
When little Rosie was born, I delighted in her. But I also delighted in knowing I was only two years away from potty training and "normalcy." Those next two years, however, turned out to be some of the hardest of my life.
On the outside, my life may have looked fine. I participated in church community groups, discipleship groups, and women's bible studies. I was an involved parent and had pulled my eldest out of public school and started homeschooling.
A BREAKDOWN
But on the inside, I felt like I was dying. The addition of a baby to homeschooling and full-time care for three kids under five felt like more than I could physically and emotionally bear. I felt like I had lost my worth, my dignity, and my hope. How could God be calling me to this? I remember many times cleaning up after my five-year-old, three-year-old and baby thinking, The sole purpose of my life is picking things up and putting them down again, like Sisyphus, pointlessly pushing a boulder up a hill only to have it fall down again. What was the point?
There were times I would wander all over the house and say over and over again, "I hate my life; I hate me."
So I started clawing at anything that promised what I was craving: worth, significance, meaning, and purpose. I threw myself into homeschooling classes, curriculums, and co-ops. I revived my doula business. I planned ministry events.
But as I attempted to busy myself, my body started shutting down. A trip to the doctor to address the fatigue ruled out major illness but hinted at depression. It was a wake-up call. I finally surrendered my crusade for meaning and purpose, submitted to my husband and stopped homeschooling (after the 100th time he asked, "Why are you doing this?") I took a break from some responsibilities and my body slowly healed. My kids started school. I made some new friends and visited some old ones. I started seeing glimmers of hope all around.
But my questions lingered: "Why did God allow this? What is my life for?"
A WILDERNESS
Around this time, I read a very helpful article that started to give me a picture of what God might be up to:
"Time and again, God calls his people to himself by leading them out of the familiar and into a wilderness. In this wilderness, the urgent needs of survival require a radical assessment of their identity and what their life is really about… In every case God brings his people to a point in which they have to reckon with their identity as his children. They can live for their own agendas, wants and needs, or choose to trust in their Heavenly Father."–Winston Smith, 'The Hunger Games: Appetite and Identity'
God was leading me through a wilderness. It was full of service and mundane repetition. He had given me a good gift—the task and the joy of serving a child—but it had become a burden because I insisted on pursuing other agendas, wants, and needs. God had brought me very deliberately to this point to reckon with my identity and my agenda. He obliterated my "felt need" to be recognized and to use my talents. He shut the doors to easy escapism and freedom from responsibility. He pressed the gas pedal on the effort needed to serve my family.
My response was to fight and question God for bringing me on this path—being a wife, being a mom, being . . . everything that I was. My flailing for meaning and pursuit of other activities actually drained my resources for my true calling. Suffering was compounded by sin. And in the wilderness, I so often chose escapism, depression, anger, self-pity, regret, selfishness, indulgence, sensuality, sulking, isolation, and fear.
But I knew, as a daughter of my Heavenly Father, there must be a better way than demanding my own agenda, living for my wants or needs of recognition, success, or escape. How could I learn to trust my Heavenly Father?
AN ENCOUNTER WITH JESUS
In May of this year, I had a dream. In the dream, I was taking my two-year-old into our shower. She had poop in her diaper and on her fingers and she had smeared it all over her face. In my frustration, I muttered, "Why did you do this? You know better. Ugh!"
Then, suddenly, Jesus was there to my right, in a white robe on the threshold of the shower. I was aware it was Jesus, but didn't dare look at his face. I just stared at the ground, frozen.
Then he spoke to me with clear, authoritative, and kind words. I was so mesmerized and giddy by Jesus' presence that I didn't even remember exactly what he said! He was speaking words of truth over me about who I was in him—a beloved daughter. He spoke to me about my identity. He was so kind, and his words so true. His presence was full of intensity and wonder and joy. His glory was magnetic. And I was filled with so much love for him. Not just love, but adoration and worship.
My heart melted, and in a puddle of tears and love, I blurted out, "I will clean up poop for the rest of my life if you want me to. I'll do it for you!" It seemed to be the only natural response to give him anything he'd ask for.
Then I woke up.
ANSWERS TO THE WHY
This encounter with Jesus was so richly layered with meaning. Jesus Christ is present with me in every moment (Matt. 28:20). He prays over me (Rom. 8:34). He sees me and speaks to me (John 10:3). His words are truth (John 18:37). He has absolute authority and it is a good authority (Matt. 28:18). He is beautiful and wonderful, and our worship songs don't go far enough to describe him!
But it took me days to realize that in this dream were the answers to the questions I had been asking: Why did he lead me into this wilderness? What is my purpose? Who am I?
In the midst of a poop- and frustration-filled scene, Jesus' presence changed the "why" of it all. His presence transformed a dirty task into a complete joy because I knew it was the King of the Universe who was asking me to do it. And this King of the Universe was so full of glory and radiance that to be asked by him to have any job on this earth was a complete privilege and not a frustration.
Now, imagine if the King of the Universe came to you and personally asked you to do the earthly work you are currently doing—because he has done just that! In God's complete control, he has appointed your earthly tasks, work, and relationships. It isn't appointed in some impersonal or vague way, but Jesus asks you, "Will you do this, for me?"
Paul's exhortation to the Colossians captures this: "Whatever you do, work at it with all your heart, as working for the Lord, not for human masters, since you know that you will receive an inheritance from the Lord as a reward. It is the Lord Christ you are serving" (Col. 3:23-24). Your work, even your mundane work, is a personal service to the Lord of all.
REMEMBERING WHO CALLED ME
So much in the previous two years—the homeschooling, the fantasizing, the jobs, and, dare I say, the ministry events—was a confused scramble for identity and purpose. What God had given me—a baby—was an opportunity to work and serve, not just a helpless infant, but Jesus Christ himself! The job didn't give me money or worldly glamour. It didn't require my "skills" or talents. But it was a gateway to joy and purpose.
And Jesus isn't asking us to serve when he hasn't. This King of the Universe, our master, is the ultimate servant. "For even the Son of man did not come to be served but to serve, and to give his life as a ransom for many" (Mark 10:45).
Jesus Himself went into the wilderness. He was tempted. But he was keenly aware of the Father's will and calling for him. While he was physically run down, Jesus returned Satan's lies with truth. Jesus could have used his earthly fame for comfort, money, a plush life, and demands for others to serve him. But his Father's will and calling was his food—his sustenance—and he didn't forget it in the wilderness or afterward. For the joy set before him, he served and served until the dust of humiliation and execution on a cross (Heb. 12:2). And by this service, we have new life!
Remember to whom and for whom you are working. Joyful contentment is possible even in the most ordinary work and dirty jobs when you realize it is the King of the Universe you are serving. If you find yourself in a wilderness, God is intimately present with you and has appointed this journey so that Jesus Christ will be magnified in your life. And his countenance and beauty are so wonderfully beyond compare, it will give you the strength for any work or service to your family and community until you see him face-to-face.
---
Robin McGee lives in Austin, TX with her husband and three daughters. She spends most of her days loving and serving her family and church. She enjoys singing, playing the piano and researching.