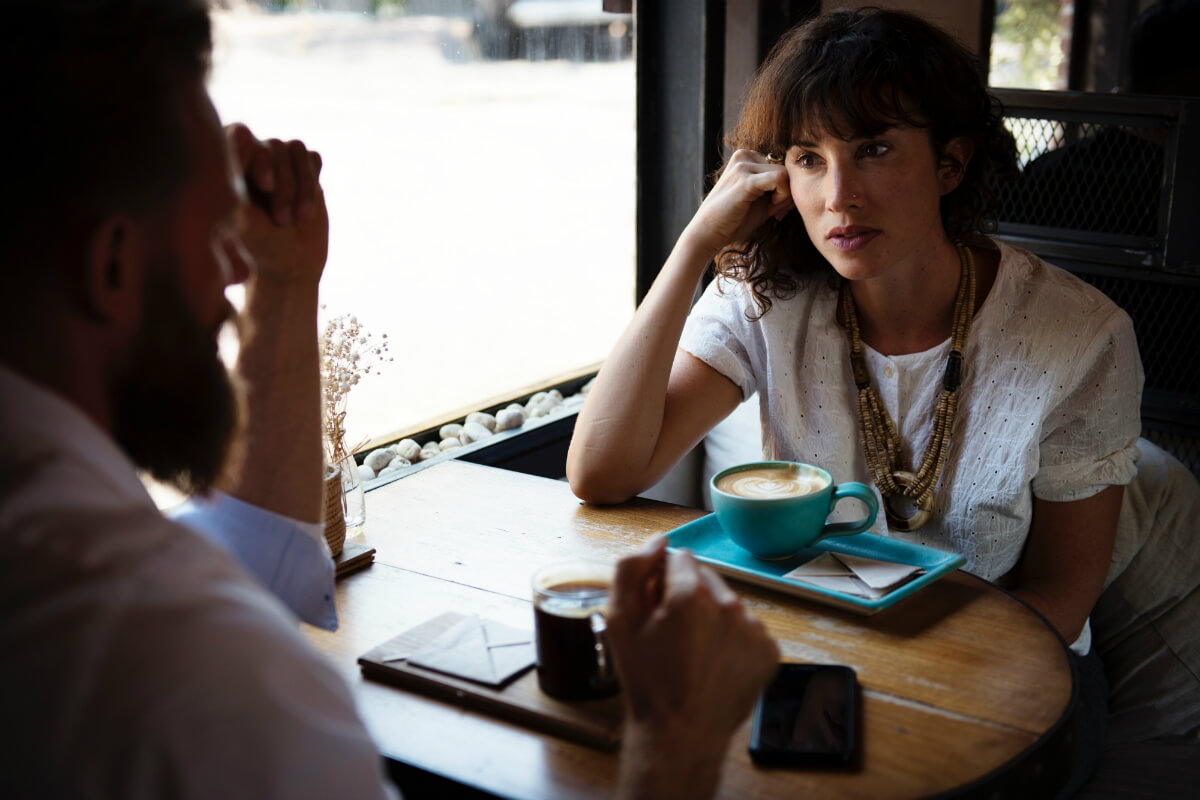 "The most basic and powerful way to connect to another person is to listen. Just listen. Perhaps the most important thing we ever give each other is our attention." —Rachel Naomi Remen
Research suggests the average person listens at a 25 percent rate of efficiency, which means most of us aren't very good listeners.
One reason for our attention deficit is that the media we're immersed in—especially social media and the ubiquitous smartphone—is shaping us. The more immersed we are, the shorter our attention spans become.
As a result, we are more attuned to the visual rather than the aural. Smartphones lure us into believing we can relationally "multitask"—we think we can give a portion of our attention to virtual relationships through our screens, while simultaneously acting like we're truly listening to the flesh-and-blood person right in front of us. Even when not actively engaged with a screen, our attention and minds are often drawn to our devices and away from whatever, or whomever, is in front of us.
We live in and are increasingly being shaped by an age of distraction that makes listening a lost art. Which means a good listener is one of the rarest and most beautiful things in the world today.
LISTENING IS AN ACT OF LOVE
In one of the earliest Christian writings, Jesus' half-brother James makes listening to others a priority: "Know this, my beloved brothers: let every person be quick to hear, slow to speak, slow to anger" (James 1:19).
James directs his readers to open their ears rather than their mouths. "Be quick to hear," he says (emphasis mine). This quickness is not an indication of speed, but of priority. In other words: listening is of primary importance, so it should be done first. There should be a sense of urgency to our listening, and it should consistently be our intuitive, default, automatic posture toward others.
The research cited above suggests this is not the case for most of us. How about with you?
Are you a good listener? Where does your mind go as people speak with you in conversation? Are you more interested in hearing or being heard? Do you attend to those in your presence, or are you constantly distracted by the ever-present virtual world on your smartphone? Do you respond to those who are angry at or critical of you with a "soft answer," or with a reflection of their anger?
Our first response to others should always be with our ears rather than with our mouths. In the command "be quick to hear," James is essentially calling us to "lead with our ears."
There is no better way to misjudge or misunderstand someone than by failing to listen to them. This failure to listen often leads to, as James warns against, a quick tongue and a sharp temper. But listening is an act of love in which the other person's interests are put in front of one's own.
Listening is an essential part of what psychologist and spiritual director David Benner calls "soul hospitality"—the creation of space and safety for someone to be themselves, to be welcomed, to be loved, and to share their innermost self.
As with the hospitality of an open home or an open table, soul hospitality requires at least two things: reception and attentive presence.
RECEPTION
The ear is an organ of reception. It does not produce anything but simply receives. This is the perfect organ for providing hospitality because it gives deference to the speaker, offering space for them to be heard. Benner writes, "the essence of hospitality is taking another person into my space, into my life."
It is intuitive to think of hospitality as generosity—as giving something of substance to someone—and listening tends to follow this general pattern. In this model, listening becomes a necessary but over-rated launching pad for response formulation.
In these cases, most conversational energy is given over to what will be said next, rather than what's being said now. The posture taken by the purported listener is therefore not one of reception but of provision. It is a position of power rather than humility.
But soul hospitality, which includes true listening, "is more demanding than giving advice, money or some other form of help," Benner goes on to say. It is an act of humility.
The assumption for the truly hospitable listener is that the other person has much more to give. The most appropriate posture to take, then, is one of reception. And reception's proper response? Gratitude.
Providing hospitality while also being the one to show gratitude is counter-intuitive. Yet truly hospitable people are often the most grateful people, blessed beyond measure at the grace-filled presence of their guests.
For this reason, reception is not equivalent to consumption. It is not a receiving into the self for the sake of the self. It is not self-centered at all. As an act of love, reception is focused on and for the other.
ATTENTIVE PRESENCE
Leading with an open ear, although it implies reception does not equate to passivity. It includes the giving of a gift: the gift of attentive presence.
Like reception, attentive presence is another act of love and humility. Benner again: "To be present to you means that I must be prepared, temporarily, to be absent to me." To be "absent to me" is to set aside thoughts, responsibilities, text messages, emails, and a plethora of other distractions that play tug-of-war with our attention.
If hospitality implies space-making, then attentive presence requires boundary-setting and the removal of distractions for a time, creating an opportunity to be present and attentive to the person whose image-of-God-bearing soul has been entrusted to the listener in this sacred space and time.
The command to listen is not easy. It takes something from us, especially when it is met with sin or anger. It is difficult to attentively listen when what is being spoken is emotion-laden and dripping with hostility. Attentive presence requires the difficult work of self-differentiation from attack, blame, or anger in order to truly listen. The natural response to emotionally furious assaults is often tantamount to an explosive chemical reaction.
But God would call us instead to the attentive, humble, loving response of the open ear—not only when it's pleasant and congenial, but, even more importantly, when it's inconvenient, tense, and downright difficult.
FIRST, LISTEN TO GOD
To serve others by leading with an open ear is to quickly recognize our great need for God. When shortfalls, inadequacy, and inability are easily recognized, we must make haste to run to his grace.
To have any hope of being receptive and attentively present to others, we must begin with attentiveness to God's voice. As James goes on to say: "Therefore . . . receive with meekness the implanted word, which is able to save your souls" (James 1:21).
First, we must listen to God, which takes place when we prayerfully and humbly attend to his voice. To become familiar with God's voice is to listen to how he has chosen to speak to us in the Scriptures. As we listen to God, we will find ourselves crying out to the One who is quick to hear: "I waited patiently for the Lord; he inclined to me and heard my cry" (Psalm 40:1).
God is quick to listen and will attend to the poor and needy sinner who comes to him asking for grace in their time of need.
You cannot become someone who is quick to hear unless you first call upon the One who inclines his ear to you. Truly it is from him that we learn to listen.
---
Mike Phay serve as Lead Pastor at FBC Prineville (Oregon) and as an Affiliate Professor at Kilns College in Bend, OR. He has been married to Keri for 20 years and they have five amazing kids (Emma, Caleb, Halle, Maggie, and Daisy). He loves books and coffee, preferably at the same time.