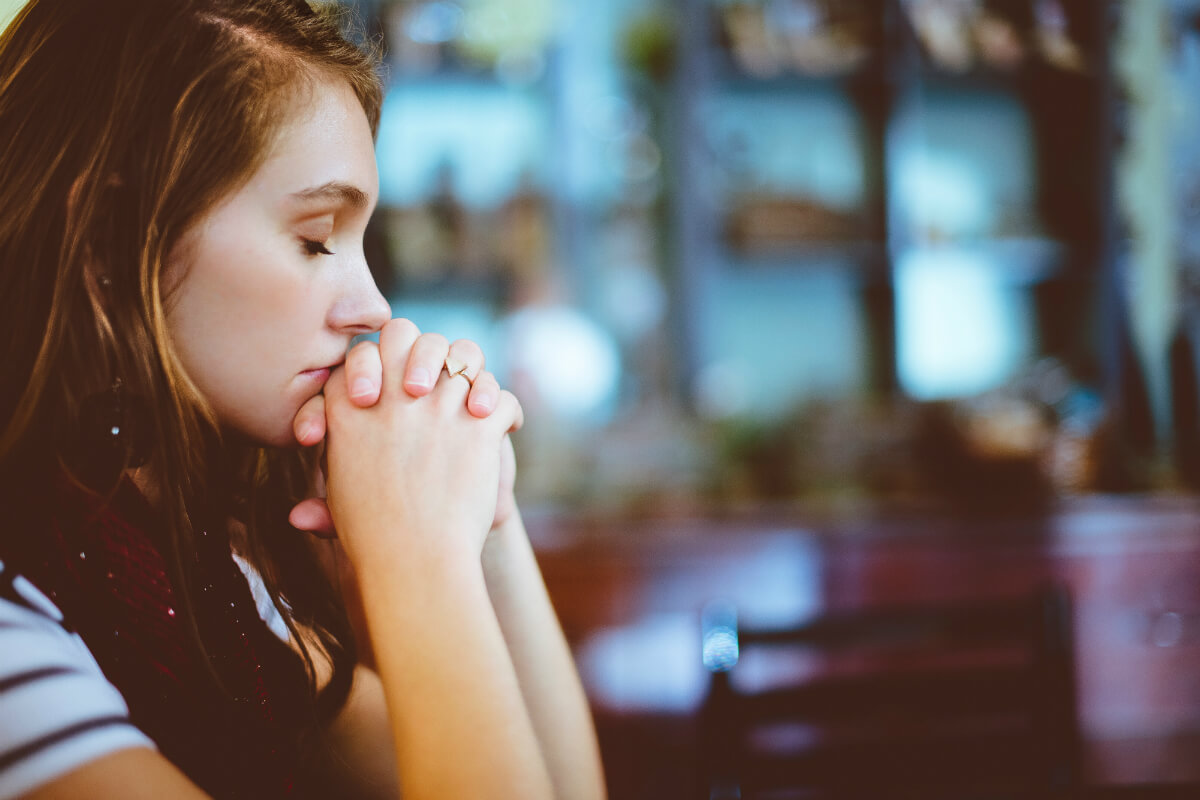 One of the things that have always captivated me about the life of Jesus is his constant communion with the Father. In one instance, Luke writes: "When Jesus was praying in a certain place, and when he had finished, one of his disciples came and said to him, 'Lord, teach us to pray, as John taught his disciples'" (11: 1). Jesus chose a certain place to pray, but it was not the marketplace. He had a habitual communion with the Father. If Jesus (who knew no sin) needed to pray "in a certain place," away from the distractions around him, how much more do fragile and weak people in modern societies, with all of its distractions, need to pray?
Prayer wasn't a religious to-do checklist for Jesus.  For him prayer was like breathing. This was not an isolated event.  Elsewhere Matthew 14: 13 tells us: "[Jesus] withdrew by boat privately to a solitary place." And Mark 1:35 says, "And rising very early in the morning, while it was still dark, he departed and went out to a desolate place, and there he prayed."
Or Matthew 14: 23, "And after he had dismissed the crowds, he went up on the mountain by himself to pray.  When evening came, he was there alone."
Again Luke 6:12 says that, "He went out to the mountain to pray, and all night he continued in prayer to God."  Prayer is communion with the Father.  Jesus lived a prayer-saturated life during his ministry on earth.  So when the disciples saw him having communion with the Father in this way, they approached him.
Lord, teach us to pray
Looking up to the Lord as a much better (or more qualified) teacher than John the Baptist, they said, "Lord, teach us to pray."  The disciples had seen John teaching his own disciples to pray, and they had seen Jesus praying to his Father earnestly.
Therefore, when they saw the communion that Jesus had with the Father through prayer they wanted that more than anything else.  Ironically, they did not ask, "Lord, teach us to preach, teach us to lead, teach us to disciple and do ministry" although they did all of these things later.
Their ministry would flow out of their relationship with the Father in prayer.  And so the first thing Jesus taught was this: "Our Father in heaven, Hallowed be your name" (Lk. 11: 2).  We call God "Our Father" by His Spirit because of Jesus who went to the cross.  And so Jesus taught his disciples big God-sized global prayers. He taught them to pray for the hallowing of God's name. And he taught them Kingdom-centered prayer ("Your Kingdom come").
But why aren't many of us confident in prayer? In Matthew 7: 9-11, Jesus awakens the disciples and us with a simple logic, when he said,
"Which one of you, if his son asks him for bread, will give him a stone? Or if he asks for a fish, will give him a serpent? If you then, who are evil, know how to give good gifts to your children, how much more will your Father who is in heaven give good things to those who ask him!"
Idols prevent us from praying
Sadly, many of us do not feel the need to pray until disaster strikes in our countries or homes; or unless  cancer, physical debilitation, or great destruction shatters our pride to our great need of God.  More often than not, it's our idols that prevent us from praying earnestly, because idols distract us from the more important things— like prayer.
The greatest barriers to living prayerful lives are not always bad things, but good things.
Bad things tend to make us pray, but not good things because bad things are not our most darling idols– good things are.  And these good things are blessings from God that we look to in order to give us comfort, security, safety, convenience and ease.  We can pull off all our organizations with managerial skills because we are a pragmatic people.  But prayer is spiritual so we find it to be the hardest thing to do.
Prayer, as simple as it sounds, is not simple for the vast majority of Christians when it comes to actually doing it, because everyone struggles to pray.  Sometimes, we don't know how unspiritual we are until we start to pray.  I sometimes struggle to have prolonged periods of tarrying in prayer unless there's a desperate need.
By God's grace, I try to make it a habit to pray silently while in the train, workplace and leisure.  And though early morning prayers are often a struggle, the time I enjoy it most is at dawn.  Nothing is as revolutionary in the Christian life than to become a person of prayer.  But unless we put in prayer times as part of our daily schedule in our calendar, it will become harder for us to pray.
A common widespread misconception
In times of trouble, I've often heard people say: "The least we can do is pray." I have probably said it too. But as a pastor once said: prayer is not the least we can do, but the most we can do.  What does prayer do?  Prayer tears down our self-reliance, and increases our reliance and confidence on God.  As Martin Luther (the reformer) said:
"None can believe how powerful prayer is, and what it is able to effect, but those who have learned it by experience.  It is a great matter when in extreme need to take hold on prayer."
And he went on to say,
"I know, whenever I have prayed earnestly, that I have been amply heard, and have obtained more than I prayed for.  God indeed sometimes delayed, but at last He came."
Grace frees us from legalistic praying
Again, we pray not to become a righteous person, but because we are already declared righteous by God in Christ (2 Cor. 5: 21). We pray not because we have to, but because we want to. Resisting legalistic praying comes from an overflow of our confidence in Christ.  God's grace frees us from legalistic praying. Grace frees us to come boldly before the Father and confess our sins to one another (Jas. 5: 16).  God's grace frees us to pray for the hallowing of God's name, as opposed to Pharisaical public praying that seeks to be seen by men (Matt. 6: 5).  We pray fervently not to become accepted by God, but because we are already accepted by him in Christ.  We pray not to feel better about ourselves and look down on others who don't pray, but we pray so that we can lift up others who are in need, with love and humility.
Furthermore, we pray because we're desperately in need of God's intervention.  In Luke 9: 40  a father who had a boy with an unclean spirit approached Jesus with a great sense of helplessness.  He said, "I begged your disciples to cast it out, but they could not." The disciples were not able to do anything with this particular case and neither could us.  Later on in Mark 9: 28-29 the disciples asked Jesus in private why they couldn't cast it out, and he replied: "This kind cannot be driven out by anything but prayer." 
The point is this: we are helpless and powerless over the kind of work that God is calling us to do.  We're constantly in the middle of warfare (Eph.6).   So even in our disciple making, no matter how many hours we spend with people, we cannot aid the work of the Spirit in a person's life without prayer.  This is why: in all that we do, praying is the most we can do.
The purpose of earnest prayer
I Peter 4: 11 says, "Whoever speaks, as one who speaks oracles of God; whoever serves, as one who serves by the strength that God supplies—in order that in everything (i.e., in all our speaking, disciple-making and serving) God may be glorified through Jesus Christ.  To him belong glory and dominion forever and ever. Amen."
The purpose of prayer is that we may repent from self-reliance and be prevented from saying, "We did it with our strength; we were clever and bright." Or, "We had the credentials and the educational qualifications."  Or that, "We were smart and gifted" or that, "We had the money and power backing us up." Or that, "We had cleverly devised ideas borrowed from the corporate world."  Or that, "We had the latest strategies on how to grow church."
We might never confess it out loud, but our attitudes and actions can betray us and reveal where our ultimate confidence really lies.  The ultimate purpose of prayer is that we may serve, speak, sing, teach and lead with the strength that God supplies, so that in everything God alone may be glorified.
As Jonathan Edwards said, "There is no way that Christians, in a private capacity, can do so much to promote the work of God and advance the kingdom of Christ as by prayer." God's purpose for us is that we get the joy of seeing him at work in the world through all of our work and prayers, and that He alone gets the glory.
God's means of recruiting and moving workers for active service
Jesus said in Matt. 9: 37, "The harvest is plentiful, but the laborers are few."  Japanese, for instance, are the 2nd largest unreached people group.  And Jesus' solution for recruiting workers is verse 38, which says, "Therefore pray earnestly to the Lord of the harvest to send out laborers into his harvest."  Jesus is sovereign! He is the Lord of the harvest.  There is a massive need for workers and our responsibility is to pray earnestly to God to send out laborers.
There is still a need for more workers, and so great is the harvest of souls around us that no single church, no single denomination, no single organization or a small network of Christian workers can accomplish the task.  There is a need for unity for a citywide, nation-wide Gospel-centered movement in Tokyo, Japan and the world.
Prayer is a God-ordained means for birthing that kind of unity and movement.
Moreover, we must also feel desperate in our prayers because there are desperate needs all around us. Desperate situation requires desperate measures and prayer is God's means for us to feel desperate before him.  But when we pray we also rejoice with confidence knowing that Jesus is Lord of the harvest.  He's the Great Farmer!  It is his harvest field.  The unreached peoples belong to him, and he is patient.  As we look around us, and the state of our times, prayer is essential more than ever.  With a great burden, Jonathan Edwards wrote in his day:
"The state of the times extremely requires a fullness of the divine Spirit in ministers, and we ought to give ourselves no rest till we have obtained it. And in order to [do] this, I should think ministers, above all persons, ought to be much in secret prayer and fasting, and also much in praying and fasting one with another. It seems to me it would be becoming the circumstances of the present day, if ministers in a neighborhood would often meet together and spend days in fasting and fervent prayer among themselves, earnestly seeking for those extraordinary supplies of divine grace from heaven, that we need at this day." – Jonathan Edwards
All of us may not go to cross-cultural missions, though I hope many or most of us would. All of us may not be preachers, but all of us can pray "for extraordinary supplies of divine grace."  We have been given the privilege to pray.  We're told in James 5: 16, "The prayer of a righteous person has great power as it is working."  As a people who have been declared righteous in Christ our prayers have "great power as it is working."  How comforting it is to know that some of the most effective prayers were prayers prayed by men with nature like ours, and God answered with incomparable power.
"Elijah was a man with a nature like ours, and he prayed fervently that it might not train, and for three years and six months it did not rain on the earth.  Then he prayed again, and heaven gave rain, and the earth bore its fruit" (vv 17, 18).
The goal of my prayer is that God be glorified in sending many into his harvest field among the unreached people groups.  Would you join us in praying for the mission fields to bear much Gospel fruit?
—
Joey Zorina is a church planter in an artistic neighborhood in Tokyo, Japan.  He writes articles, essays and devotionals for Living Life, and blogs occasionally @outsidecampers and @regeneration).  He asks that you please pray for them and the Japanese.  You can connect with him at https://twitter.com/JoeyZorina