Editor's Note: This is a repost of an article that originally appeared in J.D.'s blog: Missional Living in a Complex World. It appears here with the writer's permission. ---
Missional living is not rocket science. When we look at the great number of discussions and writings about "missional," it is easy to assume that the matter is difficult to understand – and close to impossible to live out in our world today. This is certainly not the case. Now, while I'm all for such discussions and publications (and have contributed to the conversation), the reality is that missional living is nothing new for the church.
Missional Living Occurs When ...
Missional living occurs when Kingdom Citizens live according to the Kingdom Ethic. People enter the Kingdom of God through the confession that Jesus is Messiah (Matt 16:13-19), and begin to live according to the standard of the King. His ethic transcends the ethics of the kingdoms of this world. Take a look at the Kingdom Ethic Jesus taught:
"You have heard it said, 'You shall not commit adultery,' but I tell you that anyone who looks at a woman lustfully has already committed adultery with her in his heart." (Matt 5:27-28)
"You have heard it said ... 'You shall not murder,' ... but I tell you that anyone who is angry with a brother or sister will be subject to judgment." (Matt 5:21-22)
"The rulers of the Gentiles lord it over them. Not so with you. ... The first must be a slave …" (Matt 20:25-27)
"Therefore, whoever takes the lowly position of this child is the greatest in the kingdom of heaven." (Matt 18:4)
The Kingdom Ethic is the standard by which Kingdom Citizens are to live in relation to God (Matt 22:37-40), other Kingdom Citizens (Matt 18:15-20), and those who are outside of the Kingdom (Matt 28:18-20). Packed into this divine rule is what we find throughout the Scriptures. As a Kingdom Citizen, we do not have the option to relate to God on our terms or desires. There are appropriate guidelines by which we engage with other brothers and sisters. This rule instructs us on how to interact with those who have never confessed Christ as Lord.
And while this ethic is to be lived out in covenant with other Kingdom Citizens in what is understood to be Kingdom Communities (i.e., local churches), missional living is specifically directed toward the relationships with those outside of the Kingdom.
(A note: While space will not permit me to address the comprehensive nature of the other two relationships related to Kingdom living, it is important to understand that a breakdown in fellowship in these other two areas hinders missional living. When Kingdom Citizens walk out of fellowship with God and other brothers and sisters, global disciple-making is hindered. When the Spirit of God is grieved, Kingdom expansion is affected.)
Missional Living Requires …
Both actions and words are requirements for missional living. Kingdom Citizens are to "let your light shine before others that they may see your good deeds and glorify your Father in heaven." (Matt 5:16) But Kingdom Citizens must also preach the gospel in season and out of season (Tim 4:2). We cannot do one without the other. While some situations will require that we spend most of the time living out the Kingdom Ethic before unbelievers (1 Peter 3:1-2), we must proclaim the gospel. Without the sharing of repentance toward God and faith in the Lord Jesus (Acts 20:21), no one will be saved.  Other situations will require more time spent on our words. Peter's encounter with Cornelius is an example of this matter. And while Peter spent most of his time preaching, his loving actions as a Jewish man being willing to enter into the home of a Gentile communicated the nature of the Kingdom Ethic (Acts 10).
The following diagram, developed by my friend and colleague, Tim Beougher, reveals the range Kingdom Citizens often find themselves in as they journey through life encountering those outside of the Kingdom. Sometimes we're closer to the right, other times we are near the left. Many times we find ourselves somewhere between the two poles.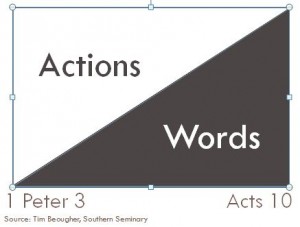 Study this passage, and feel free to use my outline when teaching others.
Continue steadfastly in prayer, being watchful in it with thanksgiving. At the same time, pray also for us, that God may open to us a door for the word, to declare the mystery of Christ, on account of which I am in prison—that I may make it clear, which is how I ought to speak. Walk in wisdom toward outsiders, making the best use of the time. Let your speech always be gracious, seasoned with salt, so that you may know how you ought to answer each person.
—Colossians 4:2-6.
Let's consider six principles for missional living from this passage.
1.  Missional Living Must be Done Prayerfully
We need to pray for opportunities to connect with people and share the gospel with them. Paul desired prayer for such opportunities. We must also trust in God to open such doors for the message. We need to pray for opportunities, words to speak, and for open hearts to the good news.
2.  Missional Living Must be Done with Gospel Clarity
The mystery of the gospel has been revealed; now we must clearly communicate the truth to others. Our language (and actions) must be understood. We are to watch our language and constantly be asking, "How are they 'hearing' what I am communicating by my words and deeds?"
3.  Missional Living Must be Done Wisely
Literally, we are "in wisdom, to be walking." This walk is our lifestyle. Do we live wisely in relation to those outside the Kingdom? Unfortunately, many people today are not interested in Jesus because they know some of his followers. Are our lives reflecting the Kingdom Ethic, or do we manifest the ethics of another kingdom?
4.  Missional Living Must be Done Intentionally
We must go throughout our day with "Great Commission Eyes." A wise evangelist of yesteryear once stated, "When I meet new people, I always see an 'L' or an 'S' on their foreheads. The 'L' stands for 'lost' and the 'S' stands for 'saved'. I assume that everyone has an 'L' until I know for certain that they are followers of Jesus." This is a good practice for us to follow. Missional living does not just happen. We must be intentional about it. We must be intentional about gospel engagement.
5.  Missional Living Must be Done Graciously
Paul notes that our speech should always be gracious and seasoned with salt. Whenever people encounter us, do they see grace or a grouch? Humility or a hypocrite? Joy or a jerk? Love or a liar?  1 Peter 3:15-16 is a great verse to memorize:
But in your hearts revere Christ as Lord. Always be prepared to give an answer to everyone who asks you to give the reason for the hope that you have. But do this with gentleness and respect, keeping a clear conscience, so that those who speak maliciously against your good behavior in Christ may be ashamed of their slander.
6.  Missional Living Must be Done Flexibly
The never-changing gospel must be communicated in ever-changing situations. Paul writes that we should know how to answer each person. This means that a customized approach is necessary when it comes to sharing the gospel. We must be students of God's Word and ready to respond appropriately to others.
Obedience is not a complicated matter. As I said before, missional living is not rocket science. So, let's take off our white lab coats, put away our scientific calculators, stop analyzing and debating the trajectories as to who gets to go to the moon, and start living out of the calling we have received.
---
J. D. Payne serves as the pastor for church multiplication with The Church at Brook Hills in Birmingham, Alabama. He is married to Sarah who is a physician in Internal Medicine and Pediatrics, working part-time at a clinic for uninsured populations in Birmingham, Alabama. They have three young children Hannah, Rachel, and Joel. 
---
To read more about missional living, check out Tony Merida's Proclaiming Jesus.
For more free articles on this topic, see Living the Mission, by Winfield Bevins, and Transformative Grace, by Jason Seville.